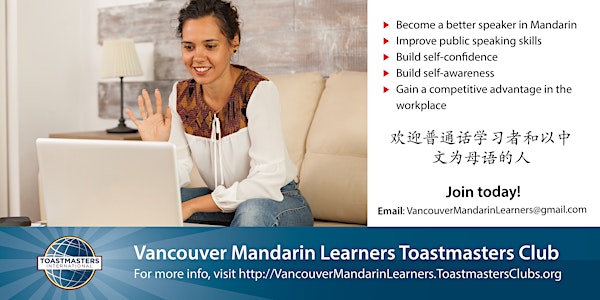 Multiple dates
Vancouver Mandarin Learners Toastmasters Club Meeting
Our online meetings provide Mandarin learners and native speakers a platform to practice their public speaking and Mandarin language skills.
By Vancouver Mandarin Learners Toastmasters Club
Date and time
Thu, Sep 8, 2022 6:00 PM - Thu, Dec 14, 2023 7:30 PM PDT
About this event
About this event
If you want to be fluent in Mandarin or have been struggling to become fluent, then Vancouver Mandarin Learners (VML) Toastmasters Club was created to help you develop and advance your Chinese language proficiency in a safe and supportive environment. Our meetings are conducted mostly in Mandarin Chinese with a little bit of English when needed. Most of our guests and members range from a low intermediate to an advanced level in Chinese. If you are looking to take your Chinese language skills to the next level, then an immersive language environment is key!
Come check out our club meeting which happens every 2nd and 4th Thursdays of the month from 6:00 - 7:30pm. Register for the event to receive details on how to join our online meeting.
Please note: Guests who want to try out Toastmasters before becoming members are welcome to visit a few times to get a sense of how our club works. We require all attendees to have their cameras turned on during the meeting. This is a club meeting and guests are encouraged to participate.
We are all learners and this is a safe environment to practice. Public speaking is not just about expressing your thoughts verbally, but it also requires using body language and eye contact to effectively communicate your message. Therefore, it's important that you have your camera on and the audience can see you. Listeners will have difficulty staying engaged in what is being said, and it'll be difficult to provide proper feedback during the evaluations portion of the meeting if they cannot see you. Even if you're not speaking, having your camera on will help the speaker deliver their message by seeing listeners' reactions and adjust in real time.
About the organizer
The Vancouver Mandarin Learners Toastmasters Club is a non-profit organization that was started to help Mandarin Chinese learners in the Lower Mainland practice and advance their language skills in a fun, safe, and supportive environment. 
Toastmasters is an effective program for individuals who are interested in becoming confident speakers, leaders and communicators. With over 16,600 clubs in 143 countries, Toastmasters has helped people with their personal and professional development since 1924.
For more information, please check out our website at https://vancouvermandarinlearners.toastmastersclubs.org/