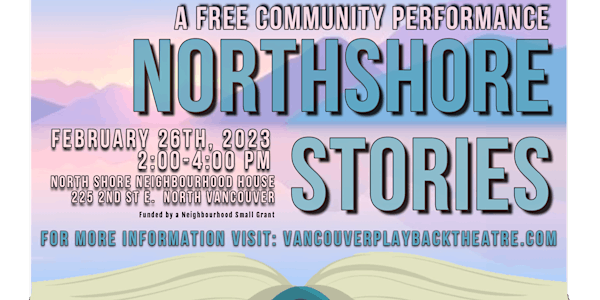 Vancouver Playback Theatre: North Shore Stories
Join Vancouver Playback Theatre for an afternoon of music, and improvisational playing back of stories from the community.
By Vancouver Playback Theatre
Date and time
Sun, Feb 26, 2023 2:00 PM - 4:00 PM PST
Location
North Shore Neighbourhood House 225 2nd Street East North Vancouver, BC V7L 1C4 Canada
About this event
Join Vancouver Playback Theatre and special musical guest, Royce Rich on February 26, 2023 for a FREE community performance at the North Shore Neighbourhood House, to share and witness the playing back of our personal North Shore Stories. All stories are welcome, from the serious to the humorous. It will be a great opportunity to connect and share with others during these challenging times.
Refreshments will be served.
If you haven't yet seen one of our performances, we use sound, movement, text, music, and fabric to dynamically re-enact ("play back") stories/life experiences told to us by audience members. We also bring to life the universal themes that weave through these stories/experiences expressing our common humanity. Audience members often tell us they resonate with the stories played back, and feel supported in the knowledge that "we're in this together.
To find out more about Vancouver Playback Theatre, please visit:
www.vancouverplaybacktheatre.com
About Violinist; Royce Rich.
Twenty-four-year-old violinist, Royce Rich, is establishing himself as one of Canada's up-and-coming classical music artists. In July 2021, he was listed as one of CBC Music's top "30 Under 30 Hot Classical Musicians" for the release of his debut studio album entitled Short Stories. Royce has appeared on concert stages as a solo artist and chamber musician across Canada, the USA, Italy, and Germany. He has performed as guest artist with the Brampton Symphony Orchestra, Lions Gate Sinfonia Orchestra, Durham Chamber Orchestra, Smazal Chamber Orchestra, and twice with the Vancouver Youth Symphony Orchestra.
In March of 2021, Royce was thrilled to have self-produced and released his debut album entitled Short Stories – a collection of beloved encore pieces with pianist, Jeanie Chung. Short Stories the album is currently available to stream and download on Spotify, Apple Music, iTunes and Amazon Music.
He has performed solo recitals and chamber music recitals for such concerts series across Vancouver and Toronto as Silk Purse Concerts, Arts at One hosted by Douglas College, The Jewish Community Centre, Music Friends, Newmann Production, Concerts @ 100, St. Andrew's Noon Hour, KnoxVan Events, Clearly Musical Home Concerts, among other concert series.
Royce completed his formal post-secondary classical music training at The Glenn Gould School of The Royal Conservatory of Music in Toronto, where he obtained his Bachelors of Music Degree, as well as completed one full year in the conservatory's Artist Diploma Program as a full-scholarship recipient of The Jack Whiteside Scholarship. Royce started taking violin lessons and performing at the age of five years old – he has studied with some of North America's leading violin pedagogues, namely, with Victor Danchenko, Martina Smazal, Taras Gabora, and Mayumi Seiler. Aside from keeping a busy performance, Royce enjoys residing in Vancouver and loves running, hiking, cycling, swimming, cooking, and getting together with friends over coffee and baking. He also enjoys mysticism, and the artistic / musical genre of retro-wave and dream-wave. Royce can be followed online via his Instagram page @roycerichmusical.
Thanks to the Neighbourhood Small Grants Project for providing us with the funding to make our performance possible.
About the organizer
Vancouver Playback Theatre helps individuals, communities and organizations develop and thrive by bringing people together to share stories, deepen dialogue, discover connections, and build positive relationships.
Using improvisation, intuition, movement and music, our troupe spontaneously re-enacts real stories from the lives of audience members. The "teller's" story is "played back" in dramatic, humours, imaginative and deeply moving ways. The universality of our human experience is illuminated, building bridges of empathy and understanding.