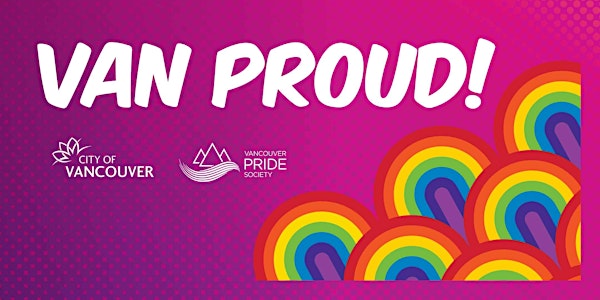 Vancouver Pride Week Launch and Flag Raising Event 2019
Date and time
Starts on Mon, Jul 29, 2019 12:00 PM PDT
Location
Vancouver Vancouver, BC Canada
Description
Join Mayor Kennedy Stewart, Vancouver City Council
and the Vancouver Pride Society in celebration of
Vancouver Pride Week
July 29 – August 4, 2019
Proclamation, Flag Raising and Launch Event

Monday, July 29 at 12 noon
Helena Gutteridge Plaza beside City Hall
453 West 12th Avenue (at Cambie)
Celebrate the unique spirit and
culture of the LGBTQ2+ community.
Food trucks available to purchase lunch.
Disclaimer
The City of Vancouver uses the Eventbrite program for the convenience of the public. However, you need not use Eventbrite and you may register for this event by emailing the City of Vancouver at erp@vancouver.ca.
You should provide personal information to us only by the methods that you authorize. NOTE THAT ANY INFORMATION SUBMITTED TO EVENTBRITE WILL BE STORED ON SERVERS IN THE UNITED STATES AND ACCESSED IN THE UNITED STATES, AS AND FOR THE PURPOSES DESCRIBED IN THE "EVENTBRITE TERMS OF SERVICE AGREEMENT (BUYERS AND OTHER NON-ORGANIZERS)" (https://www.eventbrite.ca/tos/) AND THE INCORPORATED EVENTBRITE "PRIVACY POLICY" (https://www.eventbrite.ca/privacypolicy/).
Please refer to the foregoing Eventbrite documents for other information regarding the manner in which personal information that you submit will be collected, used, accessed and disclosed if you choose to use Eventbrite. By using Eventbrite, you will be deemed to agree to the terms and conditions stated in such documents, in relation to the information you submit to Eventbrite, commencing as of the date you submit such information to Eventbrite.
Personal information collected, whether via Eventbrite, email or telephone, will be used by the City of Vancouver only for the purpose of managing attendance at the Awards of Excellence Ceremony. Such personal information is collected by the City of Vancouver under the authority of the Freedom of Information and Protection of Privacy Act. Questions may be directed to the Director, Access to Information at 453 West 12th Avenue, Vancouver, British Columbia V5Y 1V4 or via telephone at 604-873-7999.