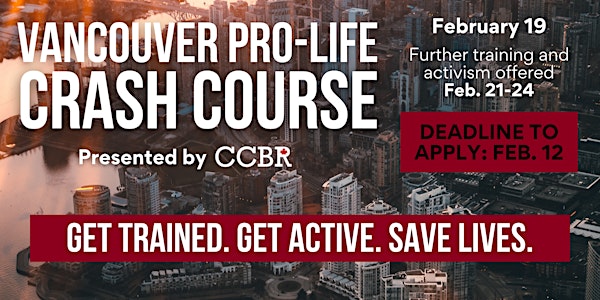 Vancouver Pro-Life Crash Course
Learn how to take action to defend pre-born babies and save them from abortion!
Refund Policy
Refunds up to 7 days before event
Eventbrite's fee is nonrefundable.
About this event
Are you looking for an opportunity to learn how to reach and transform the culture on the issue of abortion?
Are you looking for a chance to gain hands-on experience in how to do effective pro-life activism in your own community?
Do you want to be trained how to effectively and compassionately share the pro-life position with your fellow Canadians?
Do you want to gain invaluable experience changing minds and saving lives through proven pro-life outreach projects?
If you have answered, "Yes!" to any or all of these questions, then the Vancouver Pro-Life Crash Course is for you!
The Canadian Centre for Bio-Ethical Reform (CCBR) is excited to announce our 2022 Pro-Life "Crash Course" in Vancouver. The training in pro-life strategy and apologetics will prepare you to articulate the case for life to Canadians in an effective manner in order to change hearts and minds, and save lives. You will also have the opportunity to put your newly learned skills into practice as you go out in teams with experienced activists to share the pro-life message door-to-door in local neighborhoods.
Beyond the Crash Course, an opportunity for further training, mentorship, and activism, will be available the following week, February 21-24. The topics covered in this training will be: in-depth apologetics on difficult cases, the science of a developing human, conflict management, and more! At "Choice" Chain and Door-Knocking our focus will be to help you develop your conversation skills further through practice and mentorship. Join for it all or for as much as fits into your schedule!
Crash Course registration cost: $25
Crash Course registration + the book STUCK: A Complete Guide to Answering Tough Questions About Abortion: $40
Crash Course schedule:
Saturday, February 19
Pro-Life Strategy
Apologetics
Lunch (provided)
Activism protocol
Door-knocking
Wrap-up and snacks
Schedule for the optional week of activism and training:
February 21-24
12:00-1:00pm Choice Chain
2:00-3:30pm Training and Mentorship
4:00-5:30pm Doorknocking
7:00-8:30pm Doorknocking
Thursday, February 24
6:00-9:00pm Pizza, social, and wrap-up event
*Accepted applicants will be given the exact locations and a more detailed schedule.
Payment: Can be made through the eventbrite platform or with cash, debit, or credit at the event.
Questions: Contact Brittany at bvandebruinhorst@endthekilling.ca
Note: Due to COVID-19 some details may need to be modified if restrictions change. We will do our best to keep you updated on the latest plans, in accordance with public health directives and local circumstances.