Description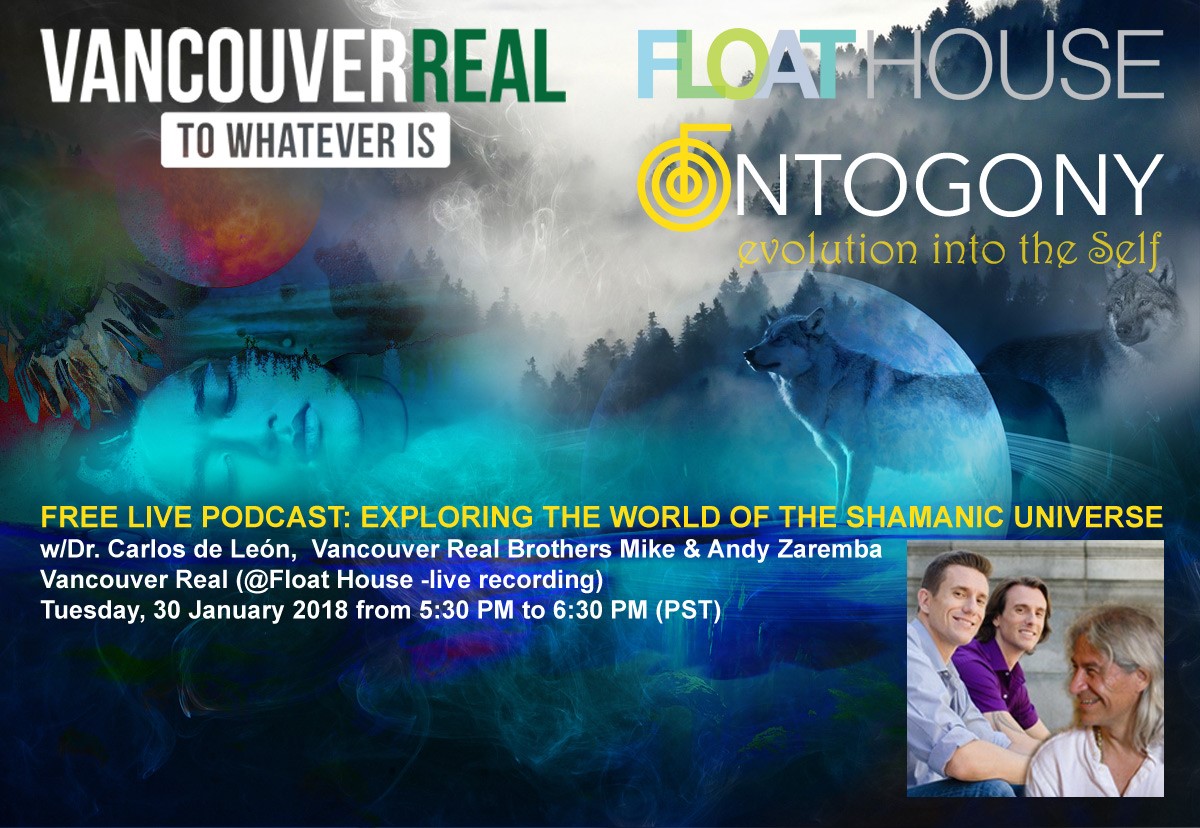 Date: Tuesday, January 30, 2018
Time: Tune in Live at 5:30 pm
Join Us: POD CAST - is streamed live Pacific Standard on Facebook timelines: Ontogony Centre & Vancouver Real

EXPLORING THE WORLD OF THE SHAMANIC UNIVERSE … Brothers Andy and Mike Zaremba (Co-Founders of Float House & Vancouver Real) interview Dr. Carlos de León (Founder of Ontogony) regarding his colourful journey through the world of the Shamanic Realities; investigations that include plant medicines, shamanic trance, soul travel, and out-of- body experiences.

Dr. de León is best known for his Ontogony model, an integration of Western and Eastern psychology, multi-faith spiritual practices and leading edge science, for the purpose of healing and transformation. Travel with him to learn how out of body experiences, meditation, therapy and floating can accelerate and deepen one's personal and spiritual development!
Please note - you must have a facebook account to listen
YOUR HOSTS…
ONTOGONY EVOLUTION & Dr. Carlos de León.
The Ontogony Centre supports a multi-faceted inquiry embracing scientific research, spiritual tradition, modern techniques and ancient teachings with an ultimate goal of providing a practice in Divine Grace and a conscious experience of the true nature of the Self. The term Ontogony derives from the Greek roots for Self-Realization or The Becoming of the Self. Ontogony's newest centre in Vancouver is part of a long-standing international community of students and seekers interested in developing their human potential and fostering a culture of enlightened consciousness. Because the curriculum is so multi-cultural and explores the depths and differences of so many great traditions, Ontogony offers a range of paths to anyone on a journey of real self discovery.
is the first commercial float tank centre in Vancouver to open in more than 20 years. It specializes in flotation therapy, an environment specifically designed to reduce external sensory input and to calm the central nervous system. With 6 locations in BC and Alberta, Float House is dedicated to the practice of floating with a vision of healing and higher consciousness. A plethora of data exists which empirically supports the benefits of floating. . Visit Float House for more info. Float House founders, Andy and Mike Zaremba are also the hosts of Vancouver Real.

is a spin-off podcast encouraged and inspired by London Real. This is a podcast created and hosted by Brian Rose produced out of London, England.
Brian was a guest on the Joe Rogan Experience podcast where he threw out the offer that any one from any city was welcome to create a "Real" podcast from wherever they may be from. Andy and Mike Zaremba heard this and decided to go for it, and from that Vancouver Real was born.