Description
Due to COVID-19 outbreak, the Vancouver Service Jam 2020 is postponed until Aug 7-9th, where we will join many other locations who have chosen to postpone as well in 'take two' of this annual event.


---


We're hosting our 6th Annual Vancouver Service Jam! Part of the annual Global Jam events around the world.
48 HOURS TO SAVE THE WORLD
Join Jammers in up to 100 cities around the world to work simultaneously for only 48 hours (or less!) and prototype new services inspired by a secret global theme.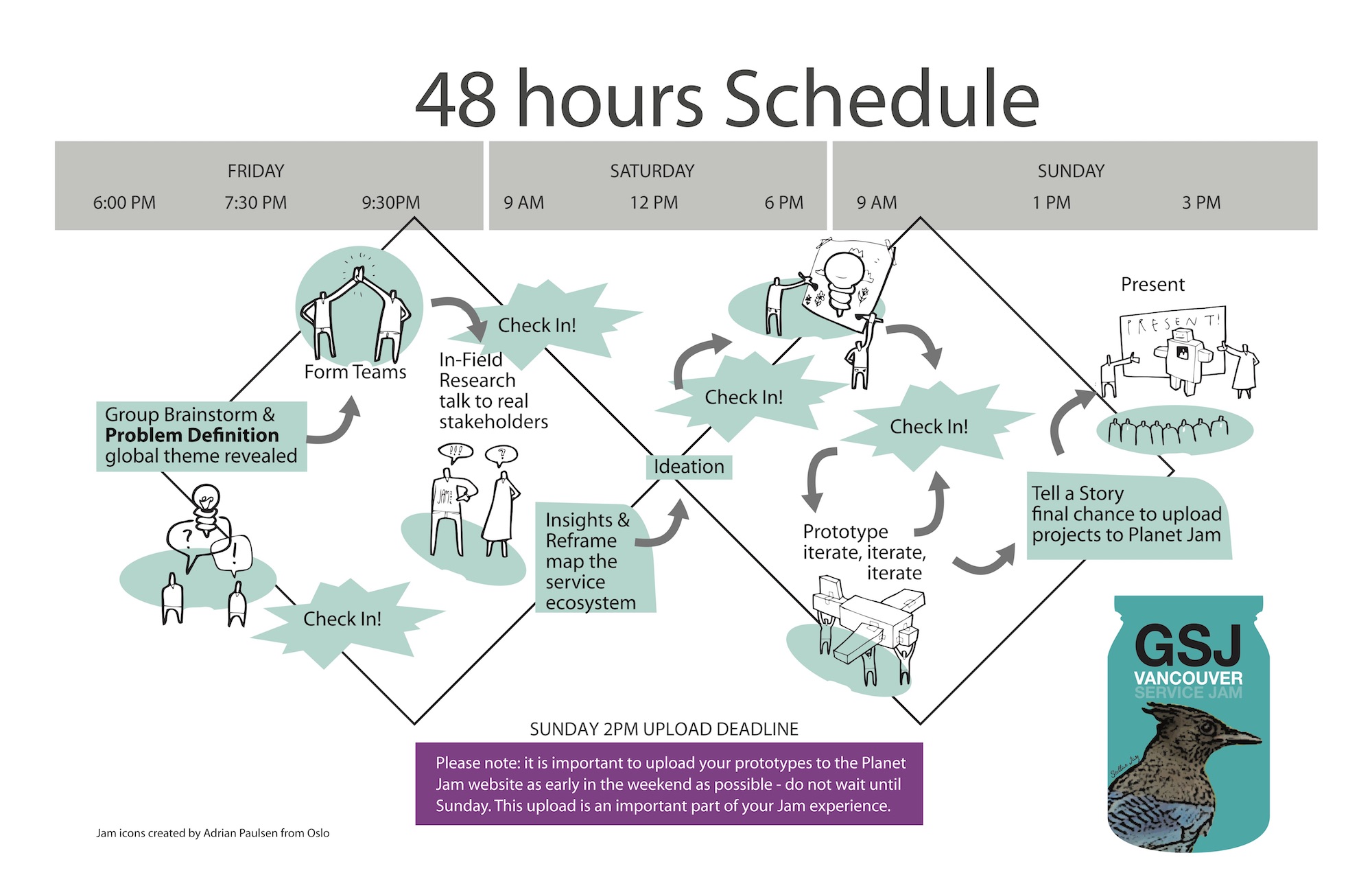 What is "the Jam"?
One special weekend, people interested in service and customer experience will meet at locations all over the globe. They will be designers, students, academics, business people, unemployed people, customers, mums, kids and grand-dads.
In a spirit of experimentation, innovation, co-operation and friendly competition, teams will have less than 48 hours to develop and prototype completely new services, products or initiatives inspired by a shared theme. At the end of the Jam, their collection of brand new insights and prototypes will be published to the world.
For more info, visit the official Global Service Jam website: http://globaljams.org/about
"I really enjoyed the mix of expertise and personalities of the hosting team. Kai was very organized and challenged us in ways that were exhausting in a good way AND necessary to reach the potential of our group/service-idea/experience!" - former Jammer

"Event was SO fun. Really neat to implement the process in such a short amount of time." - former Jammer
A 2019 Participant's account of what the Service Design Jam was like for him: https://medium.com/@deaconpoon/my-service-design-jam-adventure-7eea195606da
Testimonials from our 2019 Vancouver Service Jam Participants: https://methodsquared.co/jamtestimonials/
---
A warm welcome to Digitalist as our 2020 venue partner for this Global Service Jam event! Thank you so, so much for choosing to co-create this experience with us for the Vancouver community.
*We are still welcoming new sponsors and partners to help make this event better in different ways. Let us know if you're interesting in co-creating with us.
Please share this event with collegues and friends! Eventbrite, Facebook and Twitter.
We hope you can make it!
---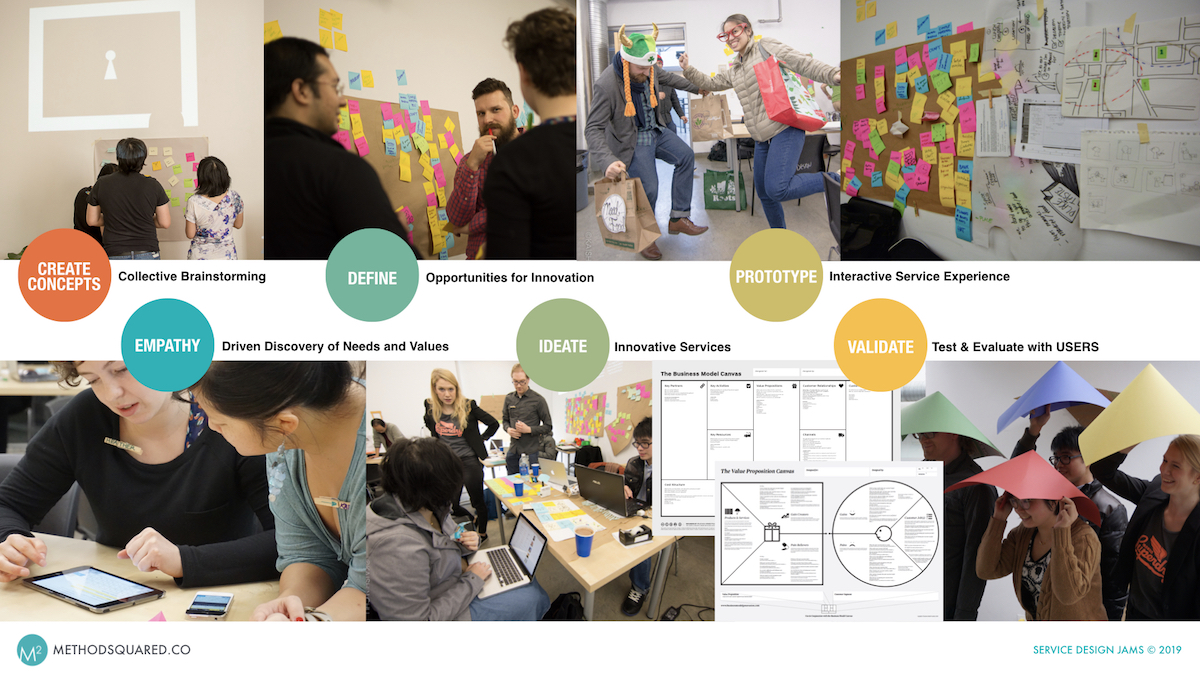 A GLIMPSE OF OUR 2015 VANCOUVER SERVICE DESIGN JAM: Video
________________________________________________________________
SCHEDULE OF EVENTS:
Friday, August 7
5:30 PM - 9:30 PM Day 1 - Brainstorming & Ideation
Saturday, August 8
8:50 AM - 6:30 PM Day 2 - Discovery & Defining + Prototyping
Sunday, August 9
8:50 AM - 6:30 PM Day 3 - Prototyping & Testing, Presenting Your Service Prototype, Social (4:30-6:30p)
NOTE:: It is imparative that you can commit to the 2.5 days in full participation as any missing team members after teams are formed will affect the team hugely.
________________________________________________________________
IMPORTANT INFORMATION FOR PARTICIPANTS:
Show up

on time

.

Bring any special tools/materials

you might need.

Do not bring a team or an idea

. These will form at the Jam. Collaborate with new people.

Do not bring pre-made content

. The services developed at the Jam should be new.
Work together in a

spirit open collaboration and collaborative leadership

.
During the Jam,

do not communicate the themes

to any Jam in a timezone which does not know them yet, as themes are announced at local times. Be helpful but be secretive.
Be prepared to

share the results

of your work under a Creative Commons license.

Have fun

!
________________________________________________________________
FAQ:

WHAT IS SERVICE DESIGN? Video
A 2019 Participant's account of what the Service Design process was like for him: https://medium.com/@deaconpoon/my-service-design-jam-adventure-7eea195606da
WHAT ARE MY TRANSPORT/PARKING OPTIONS GETTING TO THE EVENT?
Transit, Walk, Bike, Drive, Carpool with fellow attendees! Digitalist is conveniently located in Gastown, a few blocks from the Waterfront Station.
WHAT ELSE IS INCLUDED IN THE TICKET PRICE?
Basic design process supplies such as sharpies, post-it notes, basic assortment of prototyping materials, snacks & refreshments for the 2.5 days, and if tickets sell out, it means we may have some funds to provide extra food for Sunday lunchtime OR put it towards the celebration drinks/foods. We will keep you posted via our Slack channel for Jam participants/ Jammers.
WHAT IS THE REFUND POLICY?
Attendees can receive refunds up to 30 days before your event start date, please note that Eventbrite fees are non-refundable. Less than 30 days prioir to event start date, there will be no refunds. This is a non-profit event. All money goes to secure venue costs + event insurance, jam supplies, refreshments/snacks, printouts, organizers expenses incurred in advance to the event date to make the event possible. In the case of the event needs to be cancelled, you will receive full refund including Eventbrite fee. Learn More
IS MY REGISTRATION/TICKET TRANSFERRABLE?
Yes. If you need to transfer your ticket to someone else, please do so via Eventbrite website/app and follow the instructions it provides.
WHAT IS THE MINIMUM AGE REQUIRED?
Secondary school youths are allowed as long as supervised by a parent who is in full attendance as well. Ticket required for every attendee.
HOW CAN I CONTACT THE JAM HOSTS ON THE DAYS OF THE EVENT?
SLACK innov8collective.slack.com channel: #vsjam2020
DM Jam co-hosts Chuck or Charlotte