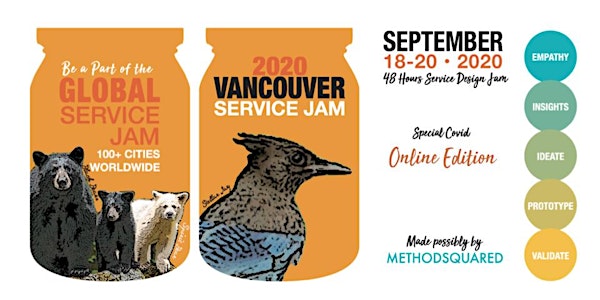 Vancouver Service Jam 2020 - 7th Annual [Online Edition]
48 HOURS TO SAVE THE WORLD Join Jammers in up to 100 cities around the world to prototype new services inspired by a secret global theme.
Refund Policy
Refunds up to 30 days before event
Eventbrite's fee is nonrefundable.
About this event
Due to COVID-19 pandemic, the Vancouver Service Jam 2020 is postponed to Sept 18 - 20th as a special interactive online event.
You'll have the opportunity to jam remotely/virtually with other jammers from the comfort of your own home/workspace this year. Your ticket price will include access to prepaid online collaboration tools and course content for the duration of the jam, including the week leading up to the jam. Ticket sales end on Sept 12pm 3pm (this is to ensure participants have enough time to complete the pre-jam prep course before Sept 18th. Should you want to buy a ticket past Sept 12th, please email organizer to discuss.)
48 HOURS TO SAVE THE WORLD 
Join Jammers in up to 100 cities around the world to work simultaneously for only 48 hours (or less!) and prototype new services inspired by a secret global theme.
What is "the Jam"?
One special weekend, people interested in service and customer experience will meet at locations all over the globe. They will be designers, students, academics, business people, unemployed people, customers, mums, kids and grand-dads.
In a spirit of experimentation, innovation, co-operation and friendly competition, teams will have less than 48 hours to develop and prototype completely new services, products or initiatives inspired by a shared theme.  At the end of the Jam, their collection of brand new insights and prototypes will be published to the world.
For more info, visit the official Global Service Jam website: http://globaljams.org/about
"I really enjoyed the mix of expertise and personalities of the hosting team. Kai was very organized and challenged us in ways that were exhausting in a good way AND necessary to reach the potential of our group/service-idea/experience!" - former Jammer
"Event was SO fun. Really neat to implement the process in such a short amount of time." - former Jammer
A 2019 Participant's account of what the Service Design Jam was like for him: https://medium.com/@deaconpoon/my-service-design-jam-adventure-7eea195606da
Testimonials from our 2019 Vancouver Service Jam Participants: https://methodsquared.co/jamtestimonials/
Please share this event with colleagues and friends!
We hope you can make it!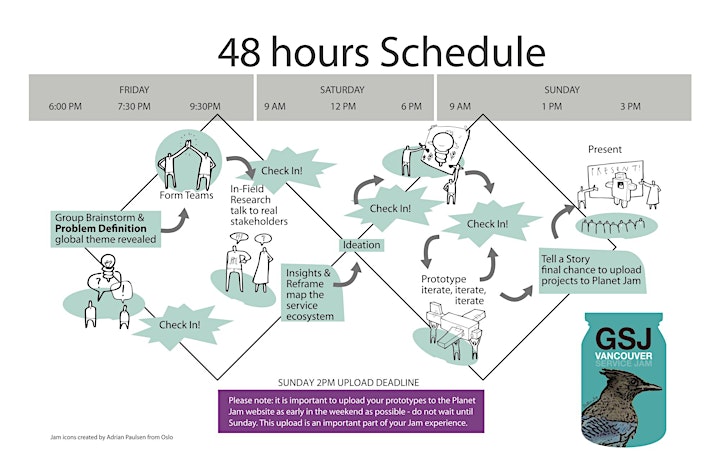 SCHEDULE OF EVENTS:
Prior to Day 1 - Participants will have access 1 week prior to JAM 101 online lessons to complete.
SUN, Sept 13
Access to online course begins and first module for JAM 101 online lessons to be completed by Fri, Sept 18 - 12pm, confirming your attendance. Important learning to prepare you for the Jam. You will be provided with links and access to all the online collaboration tools we'll be using for the jam, this way you'll have to explore and familiarize yourself prior to the doing-packed 2.5 days.
FRI, Sept 18
6:30PM Check-In to event via Zoom.
7PM- 9PM Day 1 - Brainstorming & Ideation
SAT, Sept 19
10AM - 6 PM Day 2 - Discovery & Defining + Prototyping
SUN Sept 20
10AM - 6PM Day 3 - Prototyping & Testing, Presenting Your Service Prototype, PostJam Retrospection, Remote Social (4:30-6PM)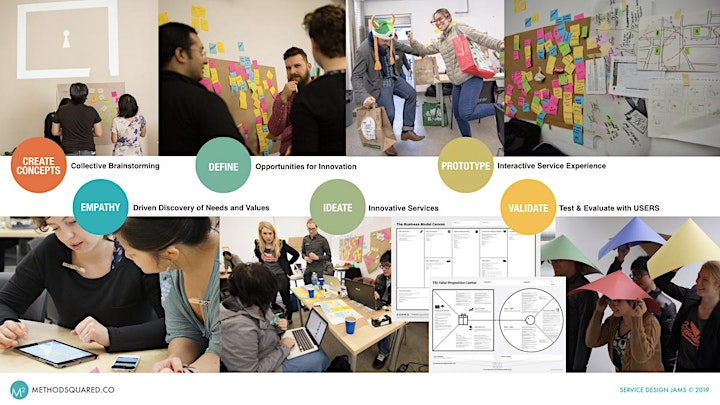 IMPORTANT INFORMATION FOR PARTICIPANTS:
Show up on time. It is imperative that you can commit to the 2.5 days in full participation as any missing team members after teams are formed will affect the team hugely. 
Prepare and have on hand any special tools/materials you might need. You'll need a laptop or desktop computer with webcam.
Do not bring a team or an idea. These will form at the Jam. Collaborate with new people.
Do not bring pre-made content. The services developed at the Jam should be new. 
Work together in a spirit open collaboration and collaborative leadership. This means be fully present and turning on audio and video with using Zoom.
During the Jam, do not communicate the themes to any Jam in a timezone which does not know them yet, as themes are announced at local times. Be helpful but be secretive.
Be prepared to share the results of your work under a Creative Commons license.
Have fun!  
FAQ:
WHAT IS SERVICE DESIGN? Video
A 2019 Participant's account of what the Service Design process was like for him:  https://medium.com/@deaconpoon/my-service-design-jam-adventure-7eea195606da
WHAT ELSE IS INCLUDED IN THE TICKET PRICE? Online customized course for Jam 101, preparation and checklists (3 month access, starting from a week prior to jam start date), live remote jam access with access to Mural (collaboration boards), etc... and a Service Design Jam completion certification!
WHAT IS THE REFUND POLICY? Attendees can receive refunds up to 30 days before your event start date, please note that Eventbrite fees are non-refundable. Less than 30 days prior to event start date, there will be no refunds. This is a not-for-profit event. All money goes to expenses of hosting and running the jam, software for collaboration, and course delivery, to make the event possible.  Learn More
IS MY REGISTRATION/TICKET TRANSFERRABLE? Yes. If you need to transfer your ticket to someone else, please do so via Eventbrite website/app and follow the instructions it provides. 
WHAT IS THE MINIMUM AGE REQUIRED? Secondary school youths are welcomed as long as supervised by a parent who is in full attendance as well.
HOW CAN I CONTACT THE JAM HOSTS ON THE DAYS OF THE EVENT?
Via #'s provided in email and course access emails & our Slack workspace, DM Kai:
https://join.slack.com/t/methodsquared/shared_invite/zt-gds0cm28-_ksPS0p4i2UO3Ib0fnGOdg