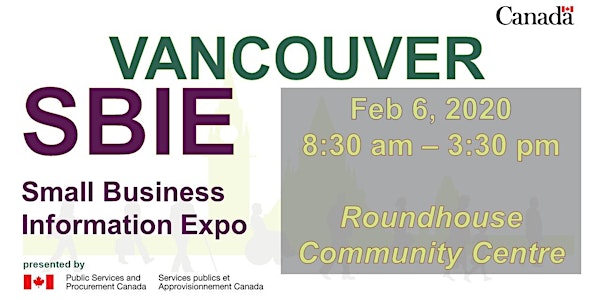 Vancouver Small Business Information Expo (SBIE) 2020
Event Information
Location
Roundhouse Community Arts & Recreation Centre
181 Roundhouse Mews
Vancouver, BC v6z2w3
Canada
Description
Your business. Your move.
The 2020 Vancouver Small Business Information Expo (SBIE) is here to help you.
Join us and more than 60 exhibitors supporting small business for six hours of the things you need to know before you make your next move. All businesses are welcome - from pre-startup to established business looking to grow, whether you are a local Vancouver business or looking to go global. We'll be talking financing, labour market, innovation, government support programs, and doing business with the city, with the province and feds, and even overseas.
With multiple information sessions (stay tuned for more info) and over 60 organizations on hand to help, you will find something at the 2020 SBIE to help your business grow.
AGENDA:
8:30 am - Tradeshow opens (Exhibition Hall)
9:15 - 9:30 am - Innovation Lightning Round (Performance Centre)
10:00 - 10:45 am - "Find Markets" Presentation (Performance Centre)
11:00 - 11:30 am - Presentation - Office of the Procurement Ombudsman (OPO)* (Room A)
12:30 - 1:00 pm - Financing Lightning Round (Performance Centre)
1:30 - 2:15 pm - "Find Support" Presentation (Performance Centre)
2:30 - 3:15 pm - Presentation - Canadian Industrial Security Directorate (CISD)** (Multi-Media Room)

3:30 pm - Tradeshow closes (Exhibition Hall)
Click here to download the full digital program.
*The Office of the Procurement Ombudsman will be on site during the event to share information on the services they offer to businesses and hear from suppliers about the issues they are facing in doing business with the Government of Canada. If you wish to schedule a one-on-one meeting with a representative from the Office, please contact Kristina Jelinic at kristina.jelinic@opo-boa.gc.ca.
The Office of the Procurement Ombudsman is a neutral and independent organization of the Government of Canada that helps resolve contracting disputes between businesses and the federal government. The Office investigates complaints and provides dispute resolution services to help parties get back to business when issues arise.


**Planning to bid and work on a government contract with security requirements? Find out how to obtain security screening and comply with contract security requirements through Public Services and Procurement Canada's Contract Security Program.
This event and the City of Vancouver lie on the unceded, traditional territory of the Musqueam, Squamish and Tsleil-Waututh First Nations.
The venue and event are designed as a positive space that is inclusive and accessible for all. Please contact the Office of Small and Medium Enterprises (osme-bpme-pac@pwgsc.gc.ca) if you have any concerns.


Date and time
Location
Roundhouse Community Arts & Recreation Centre
181 Roundhouse Mews
Vancouver, BC v6z2w3
Canada