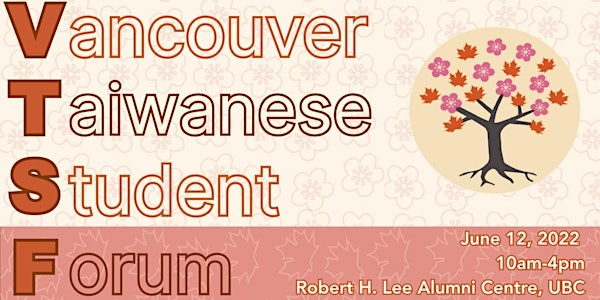 Vancouver Taiwanese Student Forum 2022
Location
Robert H. Lee Alumni Centre
6163 University Boulevard
Vancouver, BC V6T 1Z1
Canada
Are you ready to connect with like-minded peers and learn from professionals in various fields to enhance your future career?
About this event
Vancouver Taiwanese Student Forum aims to provide post-secondary students with an opportunity to interact and be inspired by leading experts from academia, industries and the government. The forum intends to promote individual growth through professional development discussions and open conversations regarding their future careers.
The core of the event includes keynote speeches and themed workshops which are specifically designed for students currently enrolled in a post-secondary institution. Our goal is to facilitate mentorship through the sharing of experiences and empower students academically and socially.
Visit our social media pages for more info!
Instagram: vtsf2022
Facebook: Vancouver Taiwanese Student Forum