Location
The Tides Renewal Center
400-163 West Hastings Street
Vancouver, BC V6B 1H5
Canada
Description
Why is Niching So Hard?
A day-long, pay-what-you-want workshop to help conscious entrepreneurs figure out their niche.
My name is Tad Hargrave and for the past decade I've been working with hundreds of people like you from around the world in helping them to figure out what their niche is. This workshop is the culmination of those efforts.
Ever since I began helping people with their marketing, it became apparent how important this idea of figuring out one's niche was.
The story of where this workshop came from...
This is an issue that isn't urgent, but it is important. And so it's easy to ignore in favour of things which are urgent and important (genuine crises that must be handled) and those things which are urgent but not important (drama).
The first ebook I ever created was about niching. I didn't want to create it, but I truly couldn't find anything out there that made sense to me. And back then, I had very few colleagues to compare notes with.
Over the years things have truly developed, and now I find myself with the great pleasure of enjoying many colleagues. And, the great confirmation of having them all echo the sentiment that figuring out one's niche matters. So much. In most of my colleagues' business related courses - niching is the first issue addressed, above all others.
And yet, it felt as though something were missing. Or a bit off track.
I remember leading one of my early workshops in Seattle, and asking people to pick a niche for their business. In my mind, it made sense. You need a niche to successfully market so . . . just pick one. I was, of course, greeted by many a deer-in-the-headlights look, and some incredible resistance.
For many, it felt like banging their heads against a brick wall. I heard more than one person say, "I've already tried niching and it didn't work."
They were deeply discouraged. And I didn't blame them. They were lost in the woods alone with no map and no support. They were out of ideas not only on what their niche might be but how to even approach the issue.
Those who weren't discouraged yet, were terrified of it. After all, niching means we need to narrow our focus, make choices, and stop trying to appeal to everyone. For many reasons, obvious and otherwise, this leaves many entrepreneurs in a cold sweat.
If they got past their fear, they were immediately in the overwhelm of, 'Where do I even start?'
And I began to wonder if the whole way we were approaching helping people find their niche itself might actually be wrong.
How could it be that the journey of niching, for so many entrepreneurs, began in terror, moved to overwhelm and ended in discouragement?
What if the problem was not that people were inherently resistant to it or needed to 'get over their fears about niching,' but that the way we were teaching it and the processes we were using was actually creating that very resistance.
The more I sat with it, the more I decided that the way myself and many of my colleagues had been approaching marketing was wrong.
And, out of that experience was borne The Niching Spiral was born.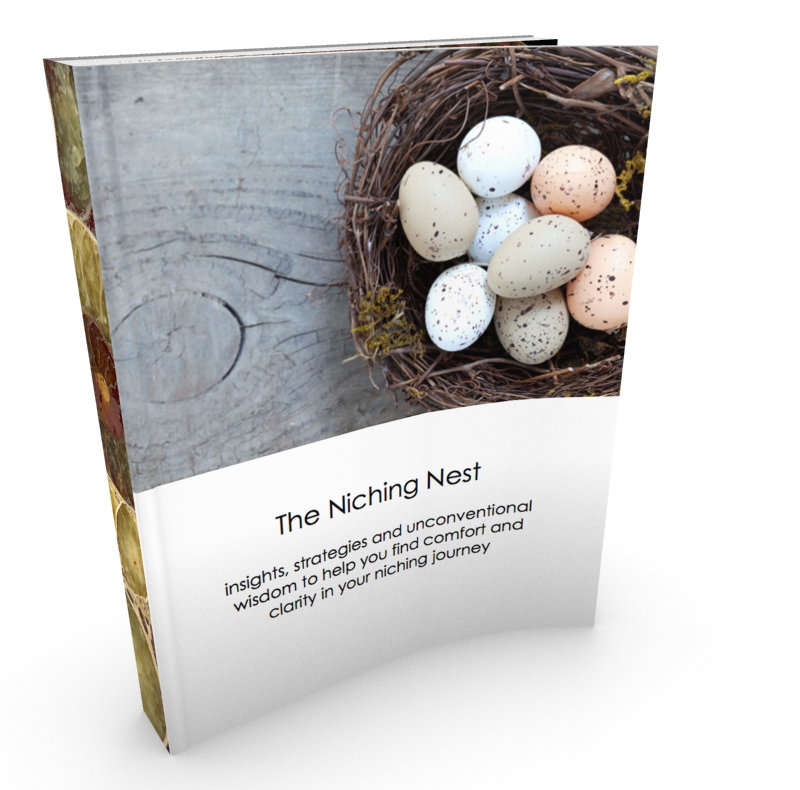 Materials you get:
a Getting Started kit the second you sign up that will walk you through the beginning steps of thinking about your niche and guide you to get some meaningful and substantial feedback on it before the workshop even begins
a digital copy of The Niching Nest (a 200+ page book covering 52 ideas to help you find comfort and clarity in your niching journey).

a seven hour, day-long workshop
During the workshop you'll:
learn a seven step, refreshing, sustainable and common sense approach to figuring out your best niche

get real time, meaningful feedback on your niche

learn why it's crucial to understand the different between the Artist's and Entrepreneur's approach to niching

learn the two biggest places you can get stuck in your niche

learn the three core elements that come together in creating any lasting niche

learn the three key criteria for a profitable niche

learn the eight most important criteria to find a niche that is a fit for you
$25 deposit + Pay-What-You-Want at the end.
What to bring:
Pen & paper.

Your own promo materials, business cards, and brochures - there might be time for me to look at some of them and give some thoughts and reflections.

Money - your cheque book, cash or credit card.