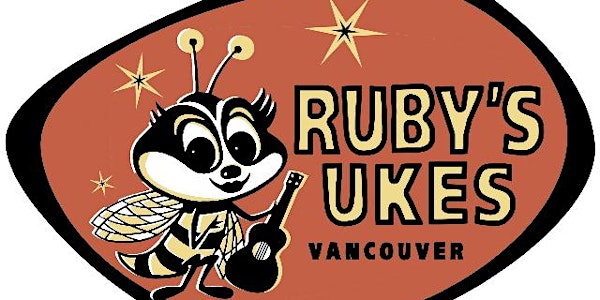 Vancouver Ukulele Festival 2019 | 2 Day Ukulele Workshops & Gala Concert
Location
The Croatian Cultural Centre
3250 Commercial Drive
Vancouver, British Columbia V5N 4E4
Canada
Description
As featured on CBC's national radio Documentary "Four Little Strings"
Ruby's Ukes presents the 10th Annual Vancouver Ukulele Festival
The Vancouver Ukulele Festival 2019
The Croatian Cultural Centre, 3250 Commercial Drive, Vancouver,BC V5N
Featuring:
Daniel Ho, Del Rey, Stu Fuchs, Victoria Vox , Casey MacGill, Daniel Ward, Heidi Swedberg, Eduardo Garcia and Ruby & Smith!
VUF 2019 Ukulele Gala Concert
$35 at the door ($25 in Advance)

Friday March 22nd 2019
7.00pm - 10.00pm (Doors open at 6pm)
This unforgettable night will feature some of the world's finest Ukulele players together on one stage for an unforgettable ukulele experience! These same internationally renowned players will be teaching the VUF 2019 Ukulele workshops over 2 days!

VUF 2019 Ukulele Festival
Cost: $299
Saturday March 23rd 2019
10.00am - 6.00pm (Doors open 9.30am)

Sunday March 24th 2019
10.00am - 6.00pm (Doors open 9.30am)

We have a wide range of workshops for you to choose from for all levels of ability, workshops are 60-75 minutes and you will choose 8 workshops to attend which will inspire you and bring your playing to a whole new level. VUF 2019 workshops are also intermingled with ukulele jams, attendee open-mics, tutor Q&A, ukulele Merch vendors, and a massive big Ol' Uke celebration for two whole days!
This Festival will cater to experienced beginners, intermediates and advanced players, you are guaranteed to leave smiling and a whole lot smarter! Tea, Coffee, & delicious snacks will be available throughout.
To maximize the ukulele experience you will be invited to bring your own lunch on Saturday and Sunday to enjoy the lunch time Ukulele open-mics and full emersion into your own 'Hawaiian Spring staycation weekend' here in Vancouver!
This year VUF will be taking over the WHOLE of the Croatian Cultural Centre for the weekend with an even bigger space for maximizing ukulele fun, marketplace, and learning!
Check out the VUF 2019 stunning tutor/performer line-up!
Daniel Ho

http://www.danielho.com
Del Rey

https://delreyplays.com
Casey MaGill

https://www.caseymacgill.com
Daniel Ward

https://www.danielward.net
Victoria Vox

https://www.victoriavox.com
Stuart Fuchs

https://www.stufuchs.com
Heidi Swedberg

https://en.wikipedia.org/wiki/Heidi_Swedberg
Ruby & Smith

http://www.rubyandsmith.com
Eduardo Garcia

https://www.youtube.com/channel/UCE93tArSDRUiruc4QU1oBjQ
(This line-up may be subject to change and additions! More info to come as we head towards this incredible event!)
What VUF 2018 attendees were saying…
"I just want to thank you for organizing such a fantastic Ukulele Festival this year! I've been to lots of music camps and workshops, but this one was the most inspiring and fun! The Friday concert was amazing, and all those gifted musicians turned out to be excellent teachers as well. What a dream line up you pulled together! I hope you're very pleased with how it went - everyone I spoke with had a great time and were keen to get home and get practising!Thank you Ruby for all the work you did to make it all happen."
"Fantastic! Something for everyone! Variety of music and voice fun times! The organization! Ruby's welcoming manner! Snacks! The friendly volunteers! Thanks Ruby and Andy!"
"Wonderful! I go away from the weekend feeling energized, inspired and excited to incorporate new learning in my own play and leading groups. Great to have so much space! Good location. The concert and the workshops were absolutely amazing. The best VUF ever! I love the emphasis on education – I loved all the instructors – I hope they all come back! Great to have some open mic and jam time too."
"Awesome! Great venue. Good lighting, easy to get to by bus or walking."
"To all of the Ruby's Ukes group. Thanks for the awesome weekend. The festival was so well organized and run that it allowed the participants to be able to relax and learn and play. The classes and the teachers were amazing. I was able to take classes from Tim, Craig, Eduardo, Abe, Daniel and Heidi. I learned so much and it was great to build on what I've learned at Ruby's Ukes. The classes on improvisation and chord melodies really added to what I 've learnt from Andy and Tim, and Heidi has inspired me to write a country and western song! So thanks again Ruby for organizing this event!"
"10/10 Wonderful workshops, such great talent! Festival tutors were A+++"
"Awesome! First uke festival that I have not (or wanted to) sneak out of even one workshop. The venue was great with lots of space, music stands on site, great sound system, volunteers all cheerful and helpful, easy/free parking. I loved the workshops, organization and use of time – with extras like open mics @ lunch, and late afternoon jam sessions. Ruby, lots of hard work to organize, thank you!"
"Overall experience was great! I can't believe what this kind of immersion does to my learning!"
"I loved Ruby, the talented instructors! The group jams! Thank you for an awesome and memorable experience!"
"Wonderful, amazing, inspiring. I learned a lot and had lots of fun, also chose my next ukulele from Tapestry!
"Very positive! Excellent Uke teachers! Name tags and welcome kit! Thank for the tea and cookies. Wonderful venue! Spacious, clean. Round tables were great for having lunch and meeting friends and coat checks at the back. A wonderful experience! Thank you Daphne and team."
"I loved the place, the people, the workshops, the atmosphere!"
"Superb! Instructors/performers were all so talented and good at teaching too! I loved the quality of the instructors and fun atmosphere, all in all A-1 festival thanks to Ruby's Ukes and volunteers!"
"Excellent! Very good overall experience – would come again for years! Overall atmosphere is encouraging. Thank you."
"Loved the comradery, variety of classes, level of classes."
"Amazing location with such a large group, and I loved the welcoming spirit of the staff."
Thank you one and all attendees 2018! I can't wait to see many of you again and to make some new Ukulele friends at the VUF 2019! Ruby x