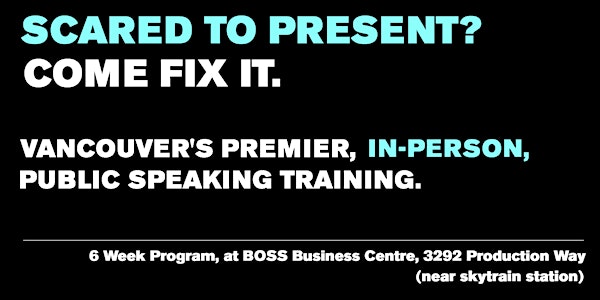 Vancouver's Premier, In-Person, Public Speaking Training
Intensive Public Speaking Training, in-person, to amplify your gifts and empower authentic communication. Zoom class is not enough!
By Local Communication Expert, Communications Lecturer at Local Post Secondary
Date and time
Sat, Apr 1, 2023 11:00 AM - 12:00 PM PDT
Location
Boss Business Centre Production Way Skytrain Station Burnaby, BC V5A4R4 Canada
About this event
Ever wish you had more confidence speaking to a group?
Wish you could express a more authentic, intelligent version of yourself to help with career, school, job interviews, and new social situations?
Here's your solution this spring: an intensive, 6 week, hands-on training program to push you out of your comfort zone and into richer levels of connection with those around you. Taught by a local University Communications Instructor with 15 years experience, and a past president of Toastmasters International.
To bring this transformation in your confidence, clarity, and coherence, this program combines 4 key elements:
1. Speaking practice standing in front of a group, often: Get your reps in and feel the nerves dissipate.
2. Pressure and accountability: Peers and instructor will push you through your comfort zone.
3. Positive and constructive feedback: We celebrate your progress and wins.
4. Communication techniques: The latest research HOW to deliver your message.
Only 8 applicants will be accepted. This ensures each student gets maximum speaking opportunities and individualized feedback.
For information before you apply, come join us for a FREE, online, 30 minute intro session on Zoom.
In this Zoom session, you will learn:
- the outline for the full 6-week program,
- the process at a typical meeting,
- the system for online accountability and community.
DATES: Starts April 15, 1 day a week in person for 6 weeks, plus online exercises and accountability community. Tuition is $299 Canadian.
You're smart. You're educated. But, you KNOW you need a BOOST to your speaking confidence to amplify your gifts and unlock your next level. It's true for all of us: come take your next step.