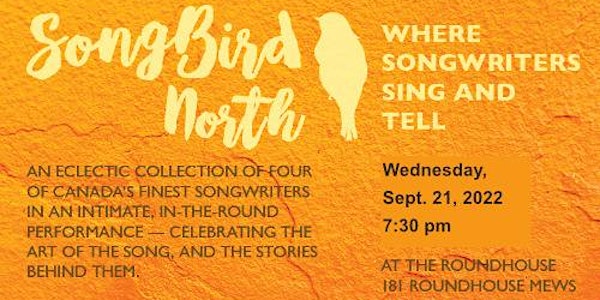 Vancouver's Songbird North #121
The Songwriters Association of Canada presents SongBird North "Where Writers Sing and Tell" #121 Hosted by Shari Ulrich
When and where
Location
Roundhouse Community Arts & Recreation Centre 181 Roundhouse Mews Vancouver, BC V6Z 2W3 Canada
Refund Policy
Contact the organizer to request a refund.
Eventbrite's fee is nonrefundable.
About this event
Shari Ulrich hosts:
Jeff Plankenhorn
Rick Scott
Suzie Ungerleider
The Songwriters Association of Canada's SongBird North celebrates with a powerhouse line-up of singer-songwriters: host Shari Ulrich will share the Roundhouse stage with Jeff Plankenhron, Rick Scott and Suzie Ungerleider.. Bringing together rising stars with established, often iconic artists, and showcasing a range of styles and backgrounds, SongBird North offers an evening of great songs, great stories, and fascinating insights into the creative process. It's a one-of-a-kind opportunity to get up close (but not too close!) and personal with the music and the artists who create and perform it.SongBird North: Where Writers Sing and Tell is produced by Shari Ulrich for the Songwriters Association of Canada. The SAC gratefully acknowledges the support of the SOCAN Foundation. For more information on the SAC's mandate, activities and membership programs, please visit www.songwriters.ca.
BACKGROUND: Since 1995, SongBird North (formerly Bluebird North) has been a mainstay in Vancouver for songwriters from across the continent, as a bi-monthly showcase that features four talented singer/songwriters of widely varying styles, on stage together, taking turns playing their original songs and sharing stories with one another and the audience about their work. While the series was started in Toronto and has toured nationally, Vancouver remains its longest-standing host city. www.songwriters.ca
ABOUT THE PERFORMERS – Sept. 21, 2022
JEFF PLANKENHORN has been filling the air with his unique blend of Americana, roots, and blues music for decades. He has crisscrossed the world playing thousands of dates, and even created his own instrument "The Plank." He's an Austin Music Award winner and Black Fret major grant recipient.  He's performed at the Telluride Americana Festival, Old Settler's Music Festival, Kerrville Folk Festival, Big Barn Dance, Islands Folk Festival, Nanaimo Blues Fest, Luckenbach Blues Festival, and Vancouver Island MusicFest. And he has collaborated with Patty Griffin, Ray Wylie Hubbard, Joe Ely, Ruthie Foster, Bob Schneider, the Flatlanders, "Scrappy" Jud Newcombe, and more. http://jeffplankenhorn.com/
 Three-time Juno nominee RICK SCOTT (and founding member of BC's legendary Pied Pumkin with Shari) is an award-winning singer, songwriter and actor, whose gift for combining music, humour and storytelling has earned him a devoted following from four generations. Accompanying himself on Appalachian mountain dulcimer, Rick has performed his lively original music in 11 countries and released 19 recordings, which have been honoured with Parents' Choice, NAPPA Gold, WCMA and Canadian Folk Music Awards. He's Goodwill Ambassador for the Down Syndrome Resource Foundation and curator of the Protection Island Museum. In 2018 he received the Nanaimo Cultural Excellence Award and in 2019 was inducted into the BC Entertainment Hall of Fame. www.rickscott.ca
 Born in Northeastern US and raised in Western Canada, SUZIE UNGERLEIDER began performing under the name Oh Susanna in the mid-1990s. For over two decades, thousands of shows, and ten critically acclaimed albums, Suzie's gloriously emotive, crystalline voice, her bewitching performances and her fierce song-writing have consistently captivated audiences, her peers and the press. She is the recipient of a Genie Award for Best Original Song and a Canadian Folk Music Award for English Songwriter of the Year. She has been nominated for three Juno Awards and four Canadian Folk Music Awards for Best Solo Performer, Best Contemporary Singer, and English Songwriter of the Year. Suzie's latest album, My Name is Suzie Ungerleider, is her first release under her given name and has recently been nominated for a Juno for Best Contemporary Roots Album of the Year. https://suzieungerleider.com/
Shari Ulrich (Host / Producer) began writing songs at the end of the reign of The Hometown Band in 1977. Her first song "Feel Good" was a hit for the band. Her solo career followed in 1978 with radio hits with "She Remembers", "Bad Bad Girl", "Romeo", "Every Road" and others. Since then she has released nine albums of original material along with another 16 with collaborations with Pied Pumkin, UHF (Bill Henderson & Roy Forbes) and BTU (Barney Bentall & Tom Taylor) Her work has garnered two Juno Awards and several nominations, an induction into the BC Entertainment Hall of Fame, and a 2014 Canadian Folk Music Award (CFMA) for English Songwriter of the Year. She has been producing and hosting Bluebird North and SongBird North both nationally and locally, since 1996 and at the Roundhouse since 2005. https://www.shariulrich.com/
Note: Out of caution and concern for the safety of both artists and audience, patrons will be asked to provide ID and proof of COVID-19 vaccination upon entry to the performance hall. Masks are also recommended. For updates please refer to the SongBird North- Vancouver Facebook Page.