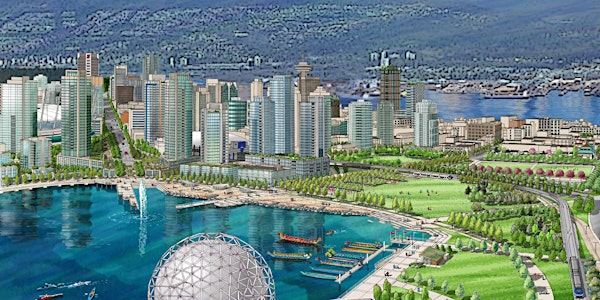 Vancouver's Viaducts - Past, Present and Future
When and where
Location
Science World at TELUS World of Science 1455 Quebec Street Vancouver, BC V6A 3Z7 Canada
Description
For the past several years, the City of Vancouver has been exploring the replacement of the Georgia and Dunsmuir viaducts with a ground-level street network. Replacing the viaducts would open up opportunities to: improve safety; remove barriers and reconnect neighbourhoods; create affordable housing and community amenities; build a larger Creekside Park; and cut down on maintenance costs.

In October, Vancouver City Council will be considering whether to move ahead with replacing the viaducts.
Come learn more about the past, present and future of the viaducts at a special event, featuring guest speakers: local community advocate Shirley Chan; Clark Manus, previous chair of San Francisco's Mayoral Citizen Advisory Committee that helped reclaim and transform the Central Embarcadero area; and Brian Jackson, General Manager of Planning, City of Vancouver.
This is a ticket only event.
To learn more on the viaducts work visit www.vancouver.ca/viaducts
Disclaimer:
The City of Vancouver uses the Eventbrite program for the convenience of the public. However, you need not use Eventbrite and you may register for this event by emailing the City of Vancouver at nefc@vancouver.ca or calling604-873-7053. You should provide personal information to us only by the methods that you authorize. NOTE THAT ANY INFORMATION SUBMITTED TO EVENTBRITE WILL BE STORED ON SERVERS IN THE UNITED STATES AND ACCESSED IN THE UNITED STATES, AS AND FOR THE PURPOSES DESCRIBED IN THE "EVENTBRITE TERMS OF SERVICE AGREEMENT (BUYERS AND OTHER NON-ORGANIZERS)" (https://www.eventbrite.ca/tos/) AND THE INCORPORATED EVENTBRITE "PRIVACY POLICY" (https://www.eventbrite.ca/privacypolicy/). Please refer to the foregoing Eventbrite documents for other information regarding the manner in which personal information that you submit will be collected, used, accessed and disclosed if you choose to use Eventbrite. By using Eventbrite, you will be deemed to agree to the terms and conditions stated in such documents, in relation to the information you submit to Eventbrite, commencing as of the date you submit such information to Eventbrite.
Personal information collected, whether via Eventbrite, email or telephone, will be used by the City of Vancouver only for the purpose of managing attendance at the NEFC Stakeholder Presentations. Such personal information is collected by the City of Vancouver under the authority of the Freedom of Information and Protection of Privacy Act. Questions may be directed to the Director, Access to Information at 453 West 12th Avenue, Vancouver, British Columbia V5Y 1V4 or via telephone at 604-873-7999.