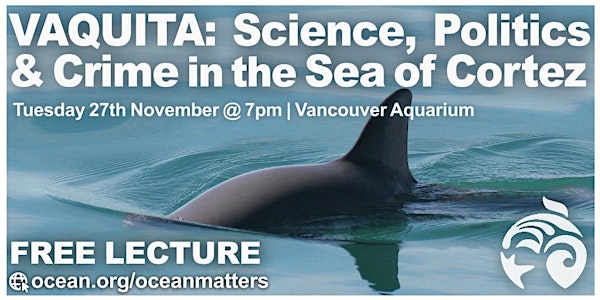 VAQUITA: Science, Politics and Crime in the Sea of Cortez
When and where
Location
Vancouver Aquarium 845 Avison Way Vancouver, BC V6G 3E2 Canada
Description
** As well as advance tickets, there will also be free tickets available on the door! **
---
ENTANGLED: A Deep Dive into the Vaquita Crisis
When researcher Brooke Bessesen set out to write a book about the smallest cetacean she had no idea how high the stakes would be. Traveling into Mexico, she found a cartel drama unfolding. Over the next twenty-two months she followed the scientists studying vaquitas and the organizations and honest fishermen facing grave risk to save these tiny porpoises. Attempting to reconcile the conflicts obstructing conservation amid rising violence and a plummeting vaquita population, Brooke found herself on a raw, personal journey to the doorstep of extinction. In this presentation, she shares stories from the field and helps clarify the historical and immediate forces driving a species to the brink.
---
About Brooke Bessen
Brooke Bessesen has worked with wildlife for over thirty years. She's been eye-to-eye with humpback whales and surrounded by free-flying California condors. She has hand-raised a baby wallaby, rehabbed a rattlesnake, trained a tiger, and photo-identified dozens of wild bottlenose dolphins. As a research fellow, Brooke's marine studies in Costa Rica led to the naming of a new yellow sea snake, Hydrophis platurus xanthos. She is the author of seven books. Through her writing, Brooke strives to make science accessible. In 2010, she founded Authors for Earth Day, and many prominent kid-lit authors have joined the coalition to mentor young readers through special conservation-focused school visits.
---
About the book
In 2006, the last of China's Yangtze river dolphins—baiji—succumbed to functional extinction, and la vaquita marina, a diminutive porpoise endemic to the Upper Gulf of California, quietly and without fanfare inherited the title of world's most endangered marine mammal. Unlike many critically endangered species, the vaquita is not hunted. Nor is its habitat disappearing or degraded. The species is even protected by law. Why then have its numbers plummeted to near extinction? The answer lies in a shadowy mix of international cartels, fishermen entrapped by politics and culture, and an unlikely fish called totoaba.
In this haunting story, Brooke Bessesen sets out to untangle the intricacies behind the vaquitas decline. She interviews townspeople, fishermen, scientists, and activists, teasing apart a complex story filled with villains and heroes, a story whose outcome is unclear. This beautifully written account of the forces driving extinctions around the world asks us to face a hard question: What will we do now?
---
Details
When? Tuesday 27th November @ 7pm (doors 6.30pm)
Price: Free, but register to guarantee your seat. (There will be a limited number of tickets on the door)
Accessibility: This event will be ASL signed and is wheel-chair accessible
Location: The Vancouver Aquarium - Aquaquest Reception