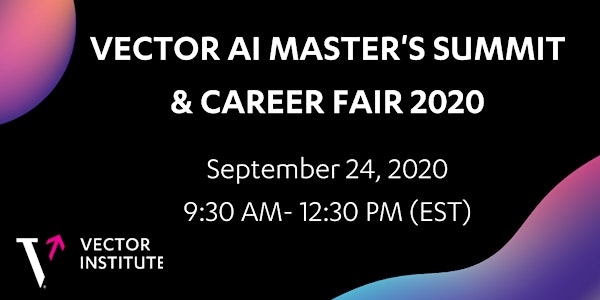 Vector AI Master's Summit & Career Fair (Attendee Registration)
Join us for this year's Vector AI Master's Summit and Career Fair, held virtually on September 24th! See below for more details.
By Vector Institute - Academic Partnerships
Date and time
Thu, Sep 24, 2020 6:30 AM - 9:30 AM PDT
About this event
Event Description
Please note the registration deadline is September 21st at 9 am (EST).
Join us on September 24th for Vector's annual AI Master's Summit & Career Fair where you will hear from industry leaders and researchers in AI, learn about career opportunities at Vector's industry sponsors, and network with students and alumni across the province!
This event is only open to current and former Vector researchers, Vector Scholarship in Artificial Intelligence recipients, students and alumni from Vector recognized master's programs, and students of Vector Faculty Affiliates.
Details about how to join on our virtual platform will be provided after registration. Sign up and stay tuned!
Ticket Information & Wait List
There is a limit of only one ticket per person. Please do not select ticket(s) from more than one category.
If there are no more tickets let for your selected Ticket Type or Program type (Core-Tech/Complementary), please complete our wait list here: https://vectorinstitute.ai/2020-vector-ai-masters-summit-career-fair-attendee-wait-list/. We will allocate you a ticket as additional capacity becomes available.
Please email us at aimasters@vectorinstitute.ai with any questions.