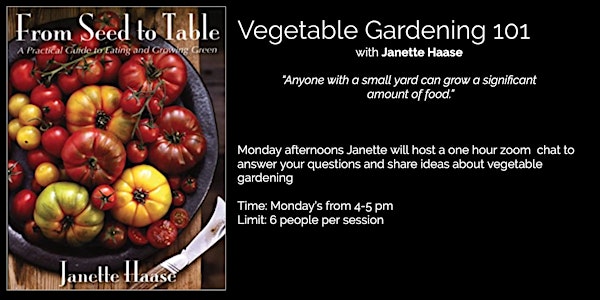 Vegetable Gardening 101 with Janette Haase
The best way to ensure that you have access to high-quality food is to grow it yourself!
About this event
Details
There's an overwhelming amount of anecdotal information about vegetable gardening on the web, much of it unproven or not applicable to our growing region or soil types.
Janette, author of From Seed to Table, is a local vegetable gardening expert who can hone in on what you need to know to be successful.
Each week Janette will coach a maximum of 6 people, offering:
answers to your vegetable gardening questions
feedback on your garden plans
help planning your vegetable garden
suggestions for the best web resources
Feel free to bring:
questions & challenges
drafts of your garden plans
pictures of your site
#gardening4good #askamastergarden #ygk #foodscape #vegetablegarden
Sponsored by
Rideau 1000 Islands Master Gardeners: Serving the public by promoting the joy of gardening and providing science-based advice on resilient gardening practices.
Loving Spoonful: Connecting people with good food across Kingston & Area to grow a healthy, sustainable, food-secure community.
Kingston Area Seed System Initiative (KASSI): Our Living Seed Commons is a collection of locally-adapted, open-pollinated seeds. Open-pollinated plants grow like their parents. They produce seeds that can be legally grown, saved and shared. They are the foundation of our food systemWe hope that you can find the peace and joy that comes from planting seeds and connecting with the Earth in these turbulent times.
#gardening4good #askamastergardener #ygk #foodscape