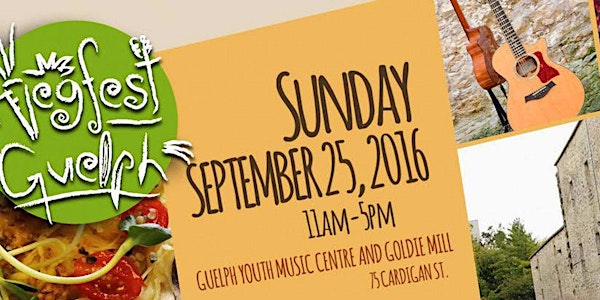 Vegfest Guelph Sponsorship - 2016
When and where
Location
Guelph Youth Music Centre and Goldie Mill 75 Cardigan St Guelph, ON N1H 3Z7 Canada
Refund Policy
Contact the organizer to request a refund.
Description
Sunday September 25, 2016
11am to 5pm
Goldie Mill Ruins and Guelph Youth Music Centre, Guelph, Ontario
Dear Community Partner,
We are pleased to announce the 3rd annual Vegfest Guelph festival, which will be held on Sunday, September 25, 2016. Vegfest is an exciting opportunity to celebrate the benefits of a plant-based lifestyle, and to promote compassionate, sustainable and healthy living for all. The festival will be held at the historic Goldie Mill Ruins and Guelph Youth Music Centre, along the banks of the Speed River in beautiful downtown Guelph.
We would like to invite you to be a sponsor of Vegfest Guelph 2016. By supporting this annual event, your company will gain a considerable amount of exposure among an important and growing demographic of consumers interested in plant-based living.
Your sponsorship will ensure our success in bringing Guelph to the forefront of the "vegfest" movement emerging across North America, as individuals and communities become increasingly aware of the environmental and health benefits of vegan and compassionate living.
We are still reeling from the enormous success of our first two Vegfests — with Vegfest Guelph 2015 attracting nearly 5,000 attendees! It's been the only event of its kind in Guelph — an entirely vegan celebration of living a compassionate, plant-based lifestyle.
About Vegfest Guelph
Vegfest Guelph was brought to life by a small group of dedicated volunteers wishing to promote veganism in a fun and welcoming setting. The festival invites "seasoned" vegetarians and vegans, those curious about adopting a plant-based lifestyle, and anyone wanting to enjoy a fun, local event. Our aim is to empower people to make positive changes in the way they eat and live.
Festival features
Vegfest Guelph 2016 will feature a variety of speakers from the U.S. and Canada, food demonstrations, nonprofit exhibitors, vendors, children's activities, music, and fabulous animal-friendly (vegan) food.
Vegfest Guelph details
Date: Sunday September 25, 2016
Hours: 11am to 5pm
Location: Goldie Mill Ruins and Guelph Youth Music Centre, 75 Cardigan Street, Guelph
Admission: FREE/$2 suggested donation
Website: vegfestguelph.ca
With nearly 5,000 in attendance last year, an impressive increase from the 2,000 that attended our inaugural event, this year's festival is expected to draw even larger and more diverse crowds. Attendees include individuals and families who are already living a vegetarian or vegan lifestyle, as well as those who are curious about plant-based living, compassion for animals, and veg-friendly cuisine and nutrition.
Sponsorship benefits
•

Opportunities to generate increased sales and patronage

• Priority booth placement over non-sponsor exhibitors

• Brand awareness and promotion

• Building community spirit

• Mentions on Vegfest Guelph social media pages and at our fundraising events

• Distribution avenue for promotional materials

• Reaching a new customer base

• Networking with other sponsors and exhibitors
Your contribution will enable Vegfest Guelph to provide important funding for marketing and pre-festival events, and ensure the success of this annual festival.
Don't miss out on this fantastic opportunity to be a key participant in Guelph's unique Vegfest celebration. Your support will help to promote compassion, good health and environmental sustainability in our community!
Continue reading to find a list of our new and improved sponsorship opportunities, as well as an outline of the terms and conditions for participation. Thank you in advance for your support of Vegfest Guelph 2016 — we look forward to celebrating with you in September!
Sincerely,
The Vegfest Guelph Planning Committee