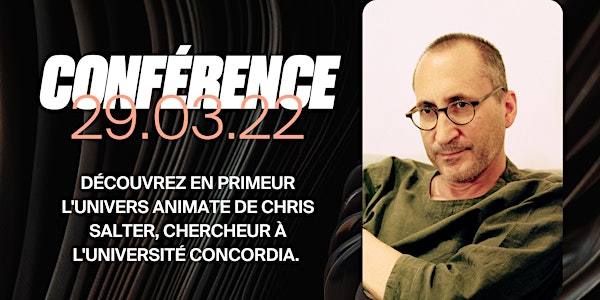 Venez découvrir en primeur l'univers Animate du chercheur Chris Salter
Découvrez en primeur l'univers Animate de Chris Salter, chercheur à l'Université Concordia.
When and where
Location
Zú 1176 Rue Sherbrooke Ouest Montréal, QC H3A 1R6 Canada
About this event
(FR) Venez découvrir en primeur l'univers Animate du chercheur Chris Salter.
Venez rencontrer le chercheur Chris Salter et son équipe de l'Université de Concordia et l'Université McGill qui sont présents dans le cadre d'un partenariat entre Zú et l'Université Concordia, afin d'en apprendre plus sur Animate, leur nouvelle expérience théâtrale virtuelle axée sur les effets émotionnels du changement climatique, développée dans le Lab TELUS 5G.
Ce projet de réalité mixed adapte la nouvelle de fiction « Animate » de l'écrivaine et interprète torontoise Kate Story en une pièce radiophonique en 3D. Les participants, équipés d'Oculus Quest 2, se déplaceront à travers une séquence chronométrée de quatre espaces physiques. Chacun de ces espaces représente différentes mises en scène de l'histoire en utilisant une combinaison sensoriellement riche en lumière, en objets et en son.
Animate sera lancé en août 2022 au grand festival Kunstfest Weimar en Allemagne, avant de faire une tournée internationale en 2023-2024. Venez le découvrir, en primeur chez Zú, et surtout venez le vivre en testant certains aspects du projet sur les casques de réalité virtuelle qui vous seront offerts.
À propos de Chris Salter
Chris Salter est un artiste, professeur d'arts numériques au Département de design et arts numériques de l'Université Concordia, Montréal, codirecteur du réseau Hexagram de recherche-création en arts, cultures et technologies, directeur d'Hexagram Concordia et directeur associé, Milieux Institute for Arts, Culture and Technology à Concordia.
Vivant et travaillant à Montréal et à Berlin, le travail de Salter explore les frontières entre les sens, l'art, le design et les nouvelles technologies à travers des installations à grande échelle ainsi que des livres, des écrits critiques et des conférences sur la scène internationale. Ses œuvres immersives et physiquement expérientielles s'inspirent du théâtre, de l'architecture, des arts visuels, de la musique informatique, de la psychologie perceptive, de la théorie et de l'ingénierie culturelles et sont développées en collaboration avec des anthropologues, des historiens, des philosophes, des ingénieurs, des artistes et des designers.
Où : Dans l'Atrium
Quand : Le 29 mars de 16 à 17h.
(EN) Come and discover the world of Animate by researcher Chris Salter.
Come and interact with researcher Chris Salter and his team from Concordia and McGill Universities, who are present as part of a partnership between Zú and Concordia University, in order to learn more about Animate, their new mixed reality theater experience focused on the emotional effects of climate change, developed in the TELUS 5G Lab.
This mixed reality project, which combines VR and AR, adapts the fictional short story of "Animate" by Toronto writer and performer Kate Story into a 3D radio play. Participants, equipped with Oculus Quest 2, will move through a timed sequence of four physical spaces. Each of these spaces represents different stagings of the story using a sensorial rich combination of light, objects and sound.
Animate will be first seen in August 2022 at the major Kunstfest Weimar Festival in Germany, before touring internationally in 2023–2024. Come and discover it, for the first time at Zú, and above all come and experience it by testing certain aspects of the project on the virtual reality headsets that will be offered to you.
About Chris Salter
Chris Salter is an artist and professor of digital arts in the Department of Design and Computation Arts at Concordia University. As well, he is co-director of the Hexagram network for Research-Creation in Arts, Cultures and Technologies; director of Hexagram Concordia; and Co-Founder and Associate Director, Milieux Institute for Arts, Culture and Technology at Concordia.
Living and working both in Montreal and Berlin, Salter's work explores the boundaries between the senses, art, design and new technologies through large-scale installations as well as books, critical writings and lectures on the international scene. His immersive and physically experiential works are inspired by theatre, architecture, visual arts, computer music, perceptual psychology, cultural theory and engineering and are developed in collaboration with anthropologists, historians, philosophers, engineers, artists and designers.
Where: In the Atrium
When: March 29 from 4 to 5 p.m.