Hear from leading technology lenders, Venbridge & CIBC, as they discuss the ins and outs of debt financing throughout the startup lifecycle
About this Event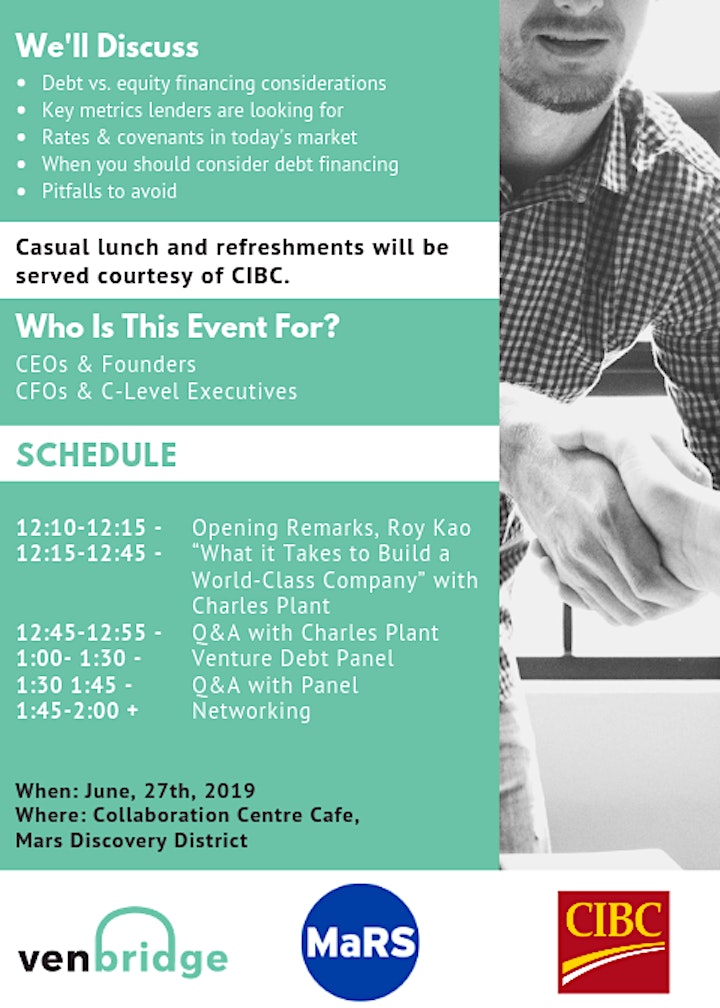 Debt financing and growth capital is an increasingly important part of the venture landscape. We have put together a panel of leading technology lenders and a few companies who have "been there" to discuss the ins and outs of debt funding.
We'll Discuss
Debt vs. equity financing considerations
Key metrics lenders are looking for
Rates & covenants in today's market
When you should consider debt financing
Pitfalls to avoid
Charles Plant, serial entrepreneur, MaRS alumni, and UofT Senior Fellow will be presenting his latest findings on what it takes to build a world-class company; and who should (and shouldn't) take VC financing. Charles is a leader in Canadian innovation and entrepreneurial thinking, you won't get insights like his anywhere else.
Who Is This Event For?
CEOs & Founders
CFOs & C-Level Executives
When: June, 27th, 2019
Where: Collaboration Centre Cafe, Mars Discovery District
Casual lunch and refreshments will served courtesy of CIBC.
Schedule
12:10-12:15 - Opening Remarks, Roy Kao, MaRS
12:15-12:45 - Market Presentation: "What it Takes to Build a World-Class Company" with Charles Plant, Senior Fellow, Impact Center UofT
12:45-12:55 - Q&A with Charles Plant
12:55-1:00 - Panel Introduction, Roy Kao, MaRS
1:00- 1:30 - Venture Debt Panel Topic:
1:30 1:45 - Q&A with panel
1:45-2:00 + Networking
Note: Photos may be taken during the event and published online. If you would prefer not to have your photo taken, please let organizers know.
By signing up, you agree to receive the Venbridge monthly newsletter. You can opt out at any time.