Event Information
Location
Canlan Ice - Banquet Room
1401 Phillip Murray Avenue
Oshawa, Ontario L1J 8C4
Canada
Description
Have some Hot-Buttons to get rid of?
Sick of being manipulated, dominated and controlled?
Want to feel heard, understood, accepted and respected?
Want more peace, love and joy in your life?
I'm inviting you to attend an exclusive 2 day experience, filled with world-class information. It transformed my life, especially with two personal relationships, and blasted me through procrastination in my business, resulting in a 197% increase in revenue in 3 months!
Verbal Aikido is a life-transforming, one-of-a-kind advanced communications program that uniquely links emotional intelligence, with the philosophy of the non-adversarial martial art, Aikido.
Why Master Verbal Aikido?
✅
Gain the Calm Confidence, Safe–Strength and Pure Motivation to enjoy Rich and Rewarding Relationships.
✅
Experience Genuine Respect, Acceptance, Interest and Mutual Benefit.
✅
Enjoy a more fun and productive work environment.
✅
Live with a "Clean Slate" free of Guilt, Fear, Anger, Regrets, Resentment or Confusion.
✅
Be More Productive, Earn More Money and Have More Fun!
✅
Calmly handle anything that comes at you by Controlling Yourself, Managing the Interactions and Influencing Others
HOME STUDY COURSE and CORPORATE Rates available too.
Bring your spouse, significant other, parent, teen or adult child, sibling or close relative for only half price!
Returning Alumni? Register today for only $100!
Refund Policy: Tickets are not refundable but transferrable to another guest, or to another event with one week's notice.
Photography Disclaimer: Trainer Jane reserves the right to photograph its events for use in their publications, social media, or promotional materials. By registering for any of our events, you understand and acknowledge that your photograph may be taken and used per Trainer Jane's discretion.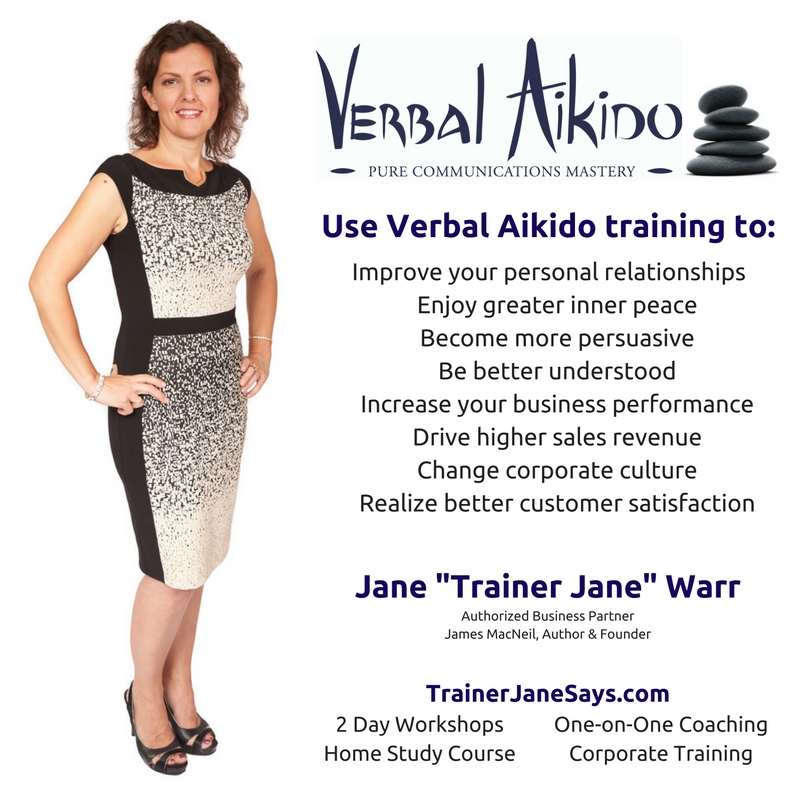 Date and time
Location
Canlan Ice - Banquet Room
1401 Phillip Murray Avenue
Oshawa, Ontario L1J 8C4
Canada
Refund policy
Organizer of Verbal Aikido Emotional Intelligence 2-Day Experience
Jane "Trainer Jane" Warr, is the Founder & CEO of Selling on the Spot Marketplace, Communications and Sales Trainer, Author and International Speaker based inToronto, Ontario, Canada.
She helps entrepreneurs, business owners and sales professionals improve their communications and business skills through networking, sales training and workshops, live and online. The benefits are goals achieved!
Jane's events include:
- Selling on the Spot Marketplace; Networking and Selling. Connections and Collaborations.
- Verbal Aikido; Advanced Communications and Emotional Intelligence Training
- Why They Buy (B.A.N.K.) Personality based sales training that predicts buying behaviour in less than 90 seconds.
and many other powerful seminars and workshops.
She also speaks to corporations, professional and non-profit organizations and enjoys charitable work..
To learn more, please visit TrainerJaneSays.com and SellingOnTheSpotMarketplace.com today.