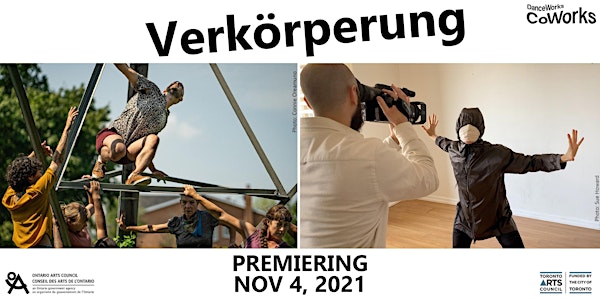 Verkörperung
Verkörperung - A double bill featuring Tracey Norman's "Where We Intersect" and Angela Blumberg's "Portrait 2020"
About this event
Verkörperung - German for "expressing embodiment" - encompasses the crux of the two dance films presented in this double bill. Originally scheduled for a live performance at The Citadel in Toronto in 2020, the pandemic required a digital adaptation of the two works, and Verkörperung will now run from November 4 - 7 as part of DanceWorks CoWorks online performance series.
Tracey Norman's ensemble piece "Where We Intersect" is a dance film that shines light on the points at which we meet and overlap with others, art, nature, and urban structures. With an intergenerational cast of 7 dancers set against a backdrop of where nature and city meet, the film invites the viewer to reimagine our similarities to each other and our landscapes. The film features an original score by Gregory Reid and performers Phylicia Browne-Charles, Irvin Chow, Justine Comfort, Jesse Dell, Rufi Oswaldo, Julia Sasso and Denise Solleza.
Angela Blumberg's "Portrait 2020" is a multimedia film that draws, dances, and vocalizes last year's experiences. The film's collection of subjective impressions overlaps with the collective experience of sacrifice, uncertainty and constant change. In former times, tragic events such as the pandemic would have been the fabric for fables, mythological characters, and wrathful gods. Today, we are past such superstitious beliefs and yet tragedy continues to strike and challenge human behaviour. Is it time to reinstate Goddess Fortuna and try to win her favor through sacrificial performances?
Verkörperung was made possible through the generous support of the Toronto Arts Council, the Ontario Arts Council, private donors and DanceWorks.
The films become available November 4 at 7pm through November 7 at 11pm. The films can be viewed as many times as you like within this 76-hour window. Information and the link will come to you via email after your purchase.