About this Event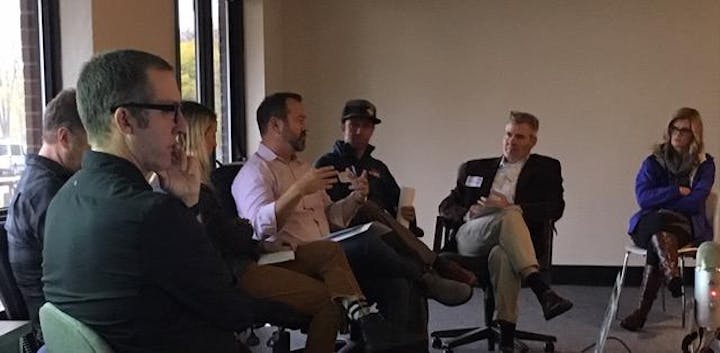 Join Vermont's outdoor recreation industry at a Vermont Outdoor Business Alliance Roundtable on Wednesday, March 6 from 4:00 - 7:00 pm at the Killington Grand Resort Hotel in the Northstar II room.
REGISTER today!
The agenda from 4:00 - 6:00 pm will include a panel and discussion on the business development topics of financing, workforce development, infrastructure, and sector branding.
Welcome and Wrap Up:
Rich McCoy, Director of Operations, Pico Mountain; Director of Summer Operations, Killington
Hal Ellms, Owner, Pinnacle Outdoor Group
Panelists:
Randy Elles, Brand Director, First Stop, Board Barn
Brooke Scatchard, Owner, Sinuosity: Flowing Trails, Fat Bike Skis
Amelia Leme, Owner, Mana Threads
Brett Long, Deputy Commissioner, Vermont Department of Economic Development
Grover Usilton, Senior Vice President, National Bank of Middlebury
Discussion Facilitators:
Financing: Lindsay DesLauriers, Executive Vice President, Chief Operating Officer, Bolton Valley Resort
Workforce Development: Justin Worthley, Senior Vice President, Human Resources, Burton Snowboards
Sector Branding: Josh Pombar, Director of Marketing, Turtle Fur
Infrastructure: Mark Yardley, Vice President of Global Sales, Darn Tough
Networking with food and beverages will take place in Preston's Restaurant from 6:00 - 7:00 pm.
Share your ideas for strengthening, expanding, attracting, and retaining outdoor recreation economy businesses in Vermont by taking the VOBA survey.
Learn more about VOBA at www.vermontoutdoorbusinessalliance.org.
Thanks to Killington, Fat Tire and Cyclewise for their generous sponsorship of the event.