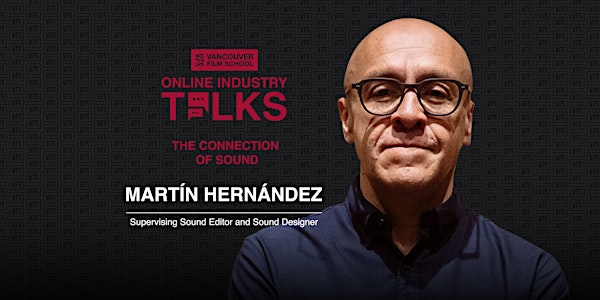 VFS Online Industry Talks: Martin Hernandez
Learn the importance of sound and the vital role it plays in storytelling.
Date and time
Mon, Mar 27, 2023 5:00 PM - 6:00 PM PDT
About this event
On Monday, March 27, Vancouver Film School invites you to an Online Industry Talk with Supervising Sound Editor and Sound Designer Martín Hernández. This event has been rescheduled from its original date of March 8, and will be online.
Two-time Oscar-nominee, five-time Golden Reel Award Winner for Sound Editing, and holding an impressive body of work that includes Oscar-winning films like Birdman, The Revenant, and Pan's Labyrinth, Martín will sit down with Shane Rees, VFS's Head of Sound Design, for an engaging chat about sound. Join us as Martín discusses the importance of sound and how it influences the creative industries, the vital role sound plays in storytelling, and how sound is critical to the overall success of a project. A must-watch for aspiring Sound Designers and creatives who want to gain insight into how sound crafts the biggest stories in Hollywood.
RSVP today. Limited spots are available!
Event Details
Date: Monday, March 27, 2023
Time: 5:00 – 6:00 p.m. PDT
Location: Online
Cost: FREE
In order to register, please use the Access Code you received in your email. If you did not receive an email, please use access code VFSONLINE.
About the organizer
In 1987, Vancouver Film School introduced the world's first true immersion film program. Today, VFS is Canada's premier post-secondary entertainment arts institution, offering an immersive curriculum in film, animation, video game production, VR/AR development, motion and interactive design, programming, art/production foundation, and other related programs. VFS is known for providing high-quality education in accelerated timeframes. VFS alumni are consistently credited on the most successful products in the entertainment economies.