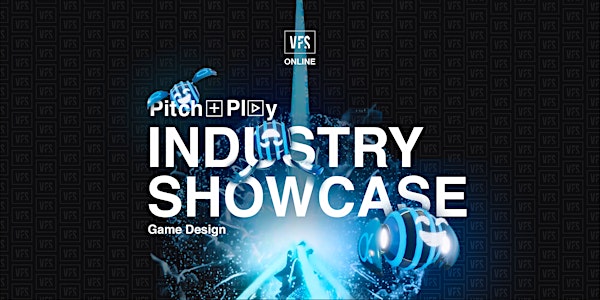 VFS Pitch + Play - Industry Showcase
Connect with tomorrow's top game developers and preview new projects from VFS Game Design students.
About this event
Join us on Thursday, August 5, to catch the online showing of the latest Game Design graduating students, as they present unique games and interactive projects created using the Unity and Unreal Game Engines, and other mobile and web technologies.
Connect with us online to watch interviews with the game teams hosted by Victor Lucas, view game trailers, be the first to play the games on your computers, join discussions with the teams, and have one-on-one conversations with any student you like.
The students are excited to share their hard work and look forward to having you — along with other experienced game industry experts — review and provide feedback on what they have created.
Event Details
Date: Thursday, August 5, 2021
Time: 4pm - 7pm PDT
Location: Online
This event is a great opportunity to share your wisdom and experience, or possibly arrange a first interview.
Please forward this invite to any other interested parties (designers, producers, HR, etc.) currently working in the games, web, or mobile industries.
Thanks in advance!
The Pitches
Tokyo Takeover
A third person stealth horror game where you play as a group of teenagers attempting to escape a mall invaded by vampirical mutants.
Alex's Wonderland
A top down 2D shooter for Android in a surreal abstract environment, set inside the mind of Alex.
Do What It Takes
A 2D Beat 'em Up/Hack N Slash where you must take control of a weapon master and defeat every enemy that gets in your way. Will you do what it takes to survive, or is this the end for you?
Echoes of Idra
A third person platformer where you play as Terra, an anthropologist searching for the lost city of Idra and the secrets within, along with your robot backpack, RB.
Hold Your Breath
A cartoony 2D platformer where the player endlessly rushes forward to avoid death, dodging the many traps and poison gas that threatens to overwhelm them.
Shift
Shift is a third person co-op Puzzle game where student and teacher are separated by time, but must work together to reactivate an ancient cathedral.