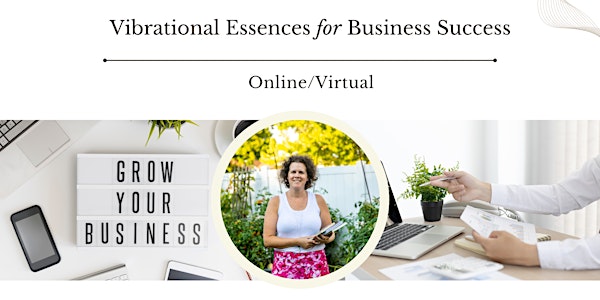 Vibrational & Flower Essences for Business Success (Online)
Vibrational & Flower Essences for Business Success (Online)
By Ashleigh Grange *Holistic Energy & Intuition*
Date and time
Wednesday, September 13 · 4:30 - 5:30pm PDT
About this event
Join me for this unique FREE workshop + healing experience focused on vibrational and flower essences for business success.
You'll discover some of my favourite nature-based essences for enhancing and improving your business success. We'll cover attention/concentration, productivity, relationships, confidence, stress, and/or similar topics of interest to participants.
You'll also benefit from a healing experience where you'll get to connect to the frequencies of nature-based essences and the innate healing within ourselves. You'll receive the energetic healing benefits of the essences, no matter where you are.
This is a transformative opportunity to share a special experience with some favourite plant allies and other in-spired souls.
If you've ever wanted to learn more about flower and nature-based essences and experience a distance healing session, you will enjoy this fun and sacred experience!
Have a question? Contact me anytime.
About the organizer
Hi, I'm Ashleigh! I help women feel calm, confident and capable.
I'm a holistic energy practitioner and Registered Holistic Nutritionist teaching and sharing ancient and innovative practices and strategies to help you thrive during hard times. I specialize in nutrition, mental and emotional wellness, and self-care.
At 25, I became my dad's primary, live-in caregiver and as you might imagine, this experience changed my life! I very quickly realized that there were very few resources available to support caregivers my age. I devoted the next seven years to giving him the best care possible. Unfortunately, I didn't do the best job caring for myself during this time, and so I spent many years recovering from chronic stress and burnout.
Today I'm teaching and sharing the ancient and innovative holistic tools, resources, secrets, and strategies that I only wish I had known back then… so you can care for yourself as well as you care for others!