VIC WEST Resilient Streets Kick-Off Event
Description
SAVE THE DATE!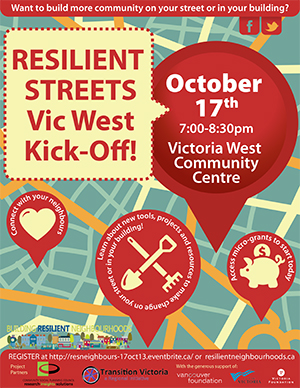 Live in Vic West? Want to learn more about creative ways you can engage your neighbours on your street or in your building to work together on fun and hands on projects that will build resilience, improve your block and strengthen relationships? Interested to learn about how you can access a micro-grant and other support to start your project today? Vic West Resilient Streets will help you and your neighbours get to know each other and work together on a project. This event will introduce the menu of street activities, resources available to support you, and connect you with others who share your interest in building more resilient streets or buildings where you live.
THIS EVENT IS OPEN TO RESIDENTS OF VIC WEST ONLY.
Post or Share the poster and help us get the word out!
Want to learn more about what you can do on your street but don't live in Vic West?
Don't worry, you can join us later this year for an regional resilient streets event.


Remember to join our
mailing list
and follow our social media to keep up to date with all the Resilient Neighbourhoods activities!
Organizer of VIC WEST Resilient Streets Kick-Off Event
Social Planning and Reserach Council of BC (SPARC BC)  was established in 1966 and is a leader in applied social research, social policy analysis and community development approaches to social justice. Our mission is to work with communities in building a just and healthy society for all. We are a non-partisan, registered non-profit society and a federally registered charity. We are a provincial organization with over 16,000 members, governed by a Board of Directors that is representative of all regions of British Columbia.
The Community Social Planning Council of Greater Victoria was established in 1936 and is an independent, charitable non-proft, community-based organization that brings people together to create a just and vibrant community in BC's Capital Region through research and leadership that result in effective community solutions.