Victoria, BC - Stand Up Comedy WORKSHOP and Comedy Writing - Saturday, OCTOBER 3 & Sunday, OCTOBER 4, 2020

Saturday, October 3, 2020 at 11:00 AM

-

Sunday, October 4, 2020 at 4:00 PM (PDT)
Event Details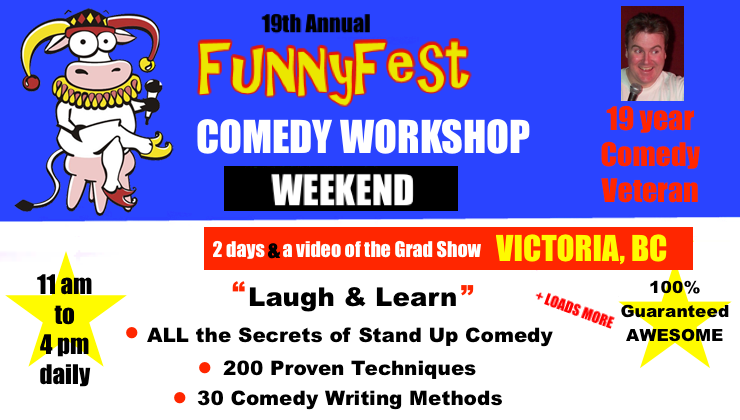 Presented by 19th Annual FunnyFest COMEDY SOCIETY
   Comedy Workshop -  Stand Up Comedy 101 – The Secrets of Stand Up Comedy -  WEEKEND COURSE @ 11 am to 4 pm, for 2 DAYS from SATURDAY, October 3 to SUNDAY, October 4, 2020 in beautiful Victoria, BC
 Laugh while you learn (in a supportive environment) the ART & CRAFT of stand up comedy from a 20 year comedy veteran. Improve your confidence and public speaking immediately with this 100% guaranteed course. You owe it to your self - esteem, and to yourself, to learn how to deliver the funny (with timing) through this proven and real course!
Learn from the pros through a hilarious, supportive, and non-competitive, Comedy Workshop! An opportunity to improve your comedy skills, your humor in the workplace skills and also become a stand up comic — FunnyFest Comedy will teach you the secrets of stand up comedy! This highly interactive, comedy workshop is perfect for any person interested in stand up comedy and/or applying proven stand up comedy techniques to your personal and business life. Stand up comedy is an art and science. Laughter is a Gift and a useful tool. The FunnyFest Comedy Workshop will make you think, work and improve. These universal principals you can apply in your business and everyday life. PLUS you will have NON-STOP fun while you learn! The ideal relationship-communication victory --- A 3-way win-win-win for the audience or your clients, your boss and you! That is what this workshop is about: Providing a metaphoric "tool belt of skills" and knowledge to produce positive and progressive communication impact to help you give the audience what they desire AND get what you want.
YOU RECEIVE:
1. Expert training with the most comprehensive course materials delivered by professional stand up comics who truly care about your development;
2. APPLY YOUR LEARNING by presenting comedy 10 times per day during the course in a safe, supportive and FUN environment; 
3. 4 FREE tickets ($60 value) to your Graduation Showcase in house to a live AND supportive audience;
3. $300 in tickets (15 tickets) to the 20th Annual Calgary Comedy Festival, November 19 to 29, 2020
4. Guaranteed spot to compete in the 20th Annual FunnyFest Comedy Competition 
5. 100% satisfaction Guaranteed. FunnyFest Comedy knows funny and crafted this course for your success!
6. Private Video Link on YouTube.com of your final performance ($75 value included)
ASK YOURSELF THESE QUESTIONS:
•  Do you want to learn how to be funny?
•  Do YOU WANT TO INCLUDE LAUGHTER IN YOUR SPEECHES & PRESENTATIONS?
•  Do you want to improve your public speaking?
• Do you want to learn the unique art stand up comedy and how to write comedy?
•  Do you want to learn the SECRETS OF STAND UP COMEDY so you can have the added advantage from learning an unique set of skills and techniques to help make you an awesome presenter?
YOUR Professional Instructor: The Course is taught by 20 year pro stand up comic and producer of the 19 year running FunnyFest Calgary Comedy Festival --- STU HUGHES
WHY DID Stu painstakenly create and write the course? Stu tries to be inclusive and give back. Stu witnessed people were being provided with the wrong advice, were being poisoned through toxic environments and he wanted to be a catalyst to take years off a performer's personal comedy development.
The course is constantly improving and the practical and applied learning is game - changing for most; life - changing for many!
Stu has taught 100s of students over the last 10 years, with a 100% satisfaction rating upon graduation!
4 Packages to Choose from: 
A. WEEKEND COURSE @ 11 am to 4 pm, for 2 DAYS from SATURDAY & SUNDAY
B. 1 Day COURSE @ 11 am to 4 pm, for 1 DAY - Saturday
 C.  2 night HOTEL PACKAGE (at workshop location) check in Friday and check out Sunday --- WEEKEND COURSE @ 11 am to 4 pm, for 2 DAYS 
  D.  3 night HOTEL PACKAGE  (close to the workshop) check in Friday and check out Monday --- WEEKEND COURSE @ 11 am to 4 pm, for 2 DAYS 
WAY COOL FEATURE: Graduation SHOWCASE @ 5 pm to 630 pm SUNDAY, October 4, 2020 --- 
Graduation SHOWCASE is pure fun and funny and includes 2 professional comics to increase the BIG laughs!
What are FunnyFest Comedy's credentials? FunnyFest Comedy has extensive expertise in this arena. FunnyFest Calgary Comedy Festival has produced over 1900 comedy events! FunnyFest Comedy has developed over 30 professional stand up comics. The Comedy Workshop 101 is technique driven and taught by professional stand up comics that have performed in at least 1500 shows each.
 VENUE:
   TRAVELODGE by Wyndham Victoria 
   123 Gorge Road E, Victoria, BC V9A 1L1 

Don't push it off, as a course of this quality and caliber will not be delivered often in your community! Invest in yourself! Sign up now! 
For further information please contact:
FunnyFest Comedy SOCIETY
tickets (AT) FunnyFest.com
Hotline: (403) 228 7888 
More info or buy FUNNYFEST Comedy Workshop: https://funnyfest-comedy-workshop-victoria.eventbrite.ca
Save This Event
When & Where

Travelodge by Wyndham
123 Gorge Road E
Victoria, BC V9A 1L1
Canada

Saturday, October 3, 2020 at 11:00 AM

-

Sunday, October 4, 2020 at 4:00 PM (PDT)
Add to my calendar
Organizer
The 20th Annual FunnyFest Calgary Comedy Festival, NOVEMBER 19 to 29, 2020 FEATURES: 11 days & nights of comedy, 11 venues, 70 performers, and 11 themes. FunnyFest Comedy produces 125 plus events per year including: Calgary Comedy Festival, HIRE FUNNYFEST COMEDIANS, comedy shows, 20th Annual FunnyFest Comedy COMPETITION, October 15 to 24, 2020, Monthly comedy series, comedy workshops, comedy writing, Christmas Comedy Special, NYE Extravaganza. FunnyFest, founded & produced by Stu Hughes, was conceived as a way to spread the "Gift of Laughter" by showcasing a world of hilarious COMEDY PERFORMERS.
20th Annual FUNNYFEST Comedy does it all -- From high brow to low brow and everything in between! FunnyFest Society is a non-profit organization produced entirely by volunteers and offers MUCH MORE than it takes from the community.
Click here to read an article about Stu's & FUNNYFEST's VISION:   
FunnyFest: Hughes is on a Mission from God
Refund or Cancellation policy: Customers must contact our office per each show refund guidelines stipulated when purchasing the tickets. You can receive a credit for the exact dollar amount (including fees & taxes) in tickets to be redeemed for another show(s) OR a full refund. If you select the credit it will be digitally issued and emailed to the buyer within 5 business days.
FunnyFest Comedy • (403) 228-7888 • tickets @ funnyfest.com