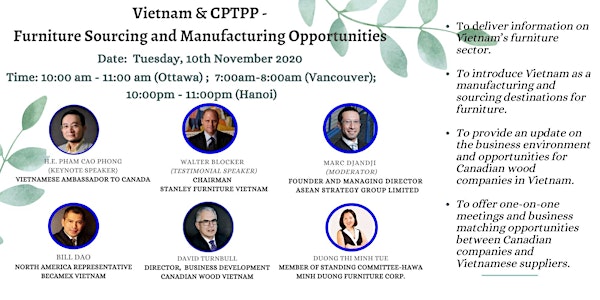 Vietnam & CPTPP - Furniture Sourcing and Manufacturing Opportunities
The online event will present Vietnam furniture sourcing and manufacturing opportunities and offer B2B meetings with Vietnamese suppliers.
About this event

Vietnam is one of the fastest growing economies in the world, offering excellent opportunities for Canadian companies seeking to expand their supply chains in Asia.
Vietnam is set to be among the few countries to post positive GDP growth in 2020. Vietnam is currently Canada's largest trading partner in the ASEAN region and its fifth-largest trading partner throughout all of Asia.
Furniture exports from Vietnam totaled USD10 billion in 2019 and recorded a 12% increase in the first 8 months of 2020. Vietnam is now the 2nd-biggest furniture supplier to the US and the 4th to Canada.
Thanks to the Comprehensive and Progressive Agreement for Trans-Pacific Partnership (CPTPP), furniture from Vietnam benefits from 0% import tariffs whereas similar products from other countries in Asia face a 6%-9% duty into Canada.
Speakers:
Keynote Speaker: H.E Pham Cao Phong, Vietnam Ambassador to Canada
Moderator: Marc Djandji, Founder and Managing Director of ASEAN Strategy Group Limited
Presentation:
• Handicraft and Wood Industry Association of Hochiminh City (HAWA)
• Canadian Wood Vietnam
• Becamex Binh Duong
Testimonial Speaker: Mr. Walter Blocker, Chairman of Stanley Furniture Vietnam, will draw from his 25+ years in Vietnam to share his experience and insight on manufacturing and sourcing from this exciting country.
Post-event Session
Business matching or virtual one-on-one meetings can be coordinated by the Embassy of S.R Vietnam in Canada (vinatrade@rogers.com; ca@moit.gov.vn) and HAWA (info@hawa.org.vn) upon requests.