VIIF 2015 - Friday October 9th - Driftwood Brewing Stage

Friday, 9 October 2015 from 7:30 PM to 10:30 PM (PDT)
Event Details
SHOWS AT PERFORMANCE WORKS
TICKET OPTIONS: Select your ticket option below. An "Evening Pass" includes both the 7:30 and 9:30 shows in the same theatre. Be sure to arrive at the theatre at least 15 minutes prior to the event. Our bar will be open and seating is general admission. Doors 30 minutes before shows.
7:30 SHOW DESCRIPTIONS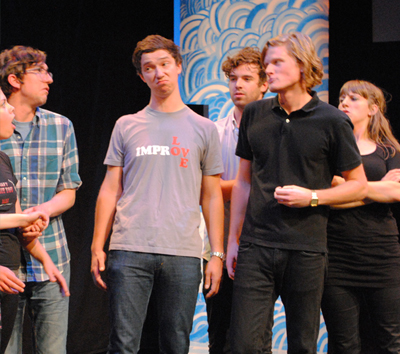 The Festival Ensemble "BRAVO"
The International Ensembles are an opportunity for individual improvisers the world over to spend a week workshopping new and new-to-them improv forms. Dozens of performers apply for a handful of spots and work with guest directors to create evening performances live for you, our audience.
This year our TWO INTERNATIONAL ENSEMBLES include performers who live in Toronto, Phoenix, San Diego, Calgary, Los Angeles, Portland, New Brunswick, Edmonton, Winnipeg, Montreal and Vancouver, who have toured across Canada, across the US, and internationally, who are writers, actors, directors, musicians and stand up comedians (when they're not improvising, of course). They are television stars, Artistic Directors of theatres, comedy and theatre award winners, teachers, friends and lovers. They're also all gifted improvisers, and they're all here to entertain you.
One thing is certain — the International Ensembles are groups of people who will likely never all work together again. In some cases, you'd have to travel pretty far to see any of them on their home turf. Now you can enjoy all of them, without even leaving your seat.
9:30 SHOW DESCRIPTIONS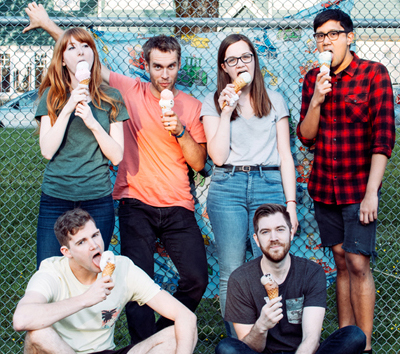 National Anthem
National Anthem is an improv group based in Vancouver that performs high energy, story-driven long form improv. They bounce between grounded and absurd comedy, but always focus on the journey and growth of the characters and worlds they create.
National Anthem was selected to take part in Instant Theatre's 2015 Cagematch Tournament in Vancouver and UCB's 17th Annual Del Close Marathon in New York.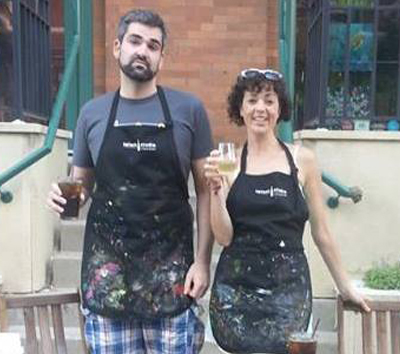 Chairs 
Melissa McNamara and Gavin Donnellan present "Chairs". Given only 2 chairs to play with, the players weave in and out of scenes dictated by the distance and formation of these sole props in an otherwise empty space. Where the chairs are the foundation, the relationship between the two, McNamara and Donnellan, as improvisers and as characters that fully embody this space, is at the heart of each performance. They open with dualogues inspired from the audience's suggestion and transition seamlessly into moments built on space, timing and movement. At times quirky, and other times, heartfelt, the piece bookends itself with the original duologue to create a cohesive theatrical event. Chairs has appeared in the Chicago Improv Fest, Milwaukee Comedy Fest, Big Little Comedy Fest, and more.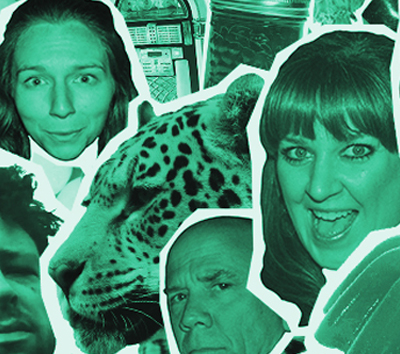 JNames
If you were to make a list of the top 10 improvisors in Portland, Coinsidentally (or not so coincidentally) most of the names are J Names.  Breaking records at Friday Night Fights and Impressing crowds all around Portland, J Names brings all the "J" talent together from the entire Portland Improv Scene in to one super group. Featuring Jed Arkley, John Breen, Jay Flewelling, Justin Himes, Jenn Hunter, Jess Lee, Jake Michels and Janet Scanlon.

When & Where

Performance Works
1218 Cartwright
Vancouver, BC
Canada

Friday, 9 October 2015 from 7:30 PM to 10:30 PM (PDT)
Add to my calendar
Organizer
For over a decade, the Vancouver International Improv Festival has been bringing the world's best improvisers to Vancouver for a week of shows and workshops in the name of bettering the improvisational theatre community, both here and internationally. From humble beginnings as a small tournament run by !nstant Theatre, the festival has grown away from competition and towards collaboration and heightening of the improv art form across Vancouver, Canada and the world.