VIIF 2015 - Wednesday October 7th - Driftwood Brewing Stage

Wednesday, 7 October 2015 from 7:30 PM to 10:30 PM (PDT)
Event Details
SHOWS AT PERFORMANCE WORKS
TICKET OPTIONS: Select your ticket option below. An "Evening Pass" includes both the 7:30 and 9:30 shows in the same theatre. Be sure to arrive at the theatre at least 15 minutes prior to the event. Our bar will be open and seating is general admission. Doors 30 minutes before shows.
7:30 SHOW DESCRIPTIONS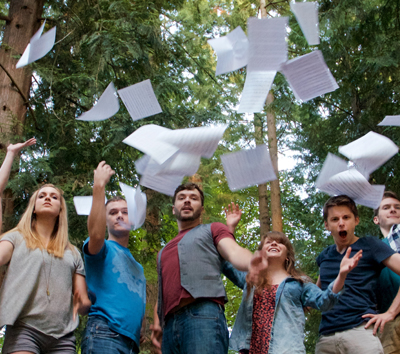 Off Key Improv
Off Key Improv performs one-act musicals and musical-themed shows that are completely made up on the spot. Risky, fun, and parodic of the musical genre, Off Key's shows are entirely inspired from audience-provided titles and suggestions. The audience joins along for the ride while the cast and band improvise everything including the story, characters, songs, music and choreography. Each night is the opening and closing night to a musical show that will never be seen again!
Formed in Vancouver, Canada, in 2012, Off Key Improv is made up of an eclectic cast of local performers and musicians. The group was co-founded by Jennifer Pielak (Director) and Peter Abando (Musical Director) who together recently co-wrote the Ovation Award-nominated Connected: The Musical along with fellow Off Key Improviser Alison Chisholm.
Off Key Improv regularly appears at various locations in and around Vancouver. Recently they have performed at Vancouver's Improv Fight Club, at Pacific Theatre, at The Cultch in Vancouver as part of Upintheair Theatre's rEvolver Theatre Festival, at the Vancouver International Improv Festival, and at the New York Musical Improv Festival.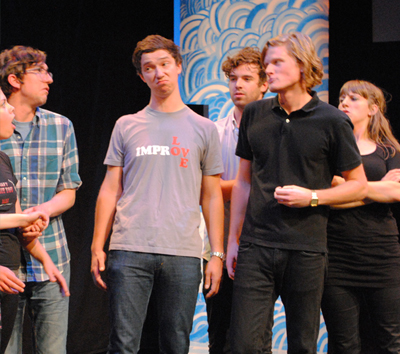 Vancouver Ensemble
We are delighted to have our very own Festival Ensemble this year showcasing top improvisers from our own city. Under the direction of the talented Caitlin Howden the cast will be performing GHOST JAIL.
The Ensemble features the talents of Angela Galanopoulos, Briana Rayner, Carla Bonnie Mah, Connor Spear, Daniel Chai, Ese Atawo, Julianne Hoyak, Malcolm McLeod, Mathieson McCrae, Michael Augustine, Nicole King, Patrick Dodd, Ronald Dario, Ryan Anderson, Shane McLean and Travis Bernhardt.
Join us for this exciting show packed with improv taken, scenes and new written works on the spot.
9:30 SHOW DESCRIPTIONS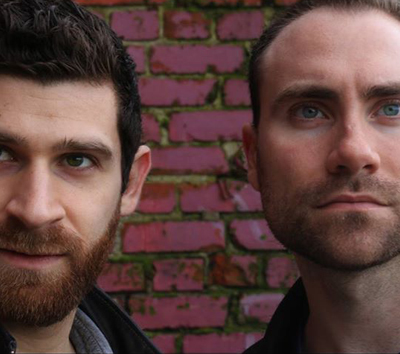 Those Guys
Those Guys are the powerhouse improv duo comprised of Andrew & Alex. They have been improvising for 10 years and friends for 20. Their witty social commentary is balanced with pop culture references and hilarious improvised songs told in a long form narrative format, with an emphasis on grounded characters. They are CAGEMATCH and Vancouver Improv Fight Club champions! Those Guys have been climbing the Vancouver improv ranks at an alarming rate, and are ready to take on the international improv scene by storm!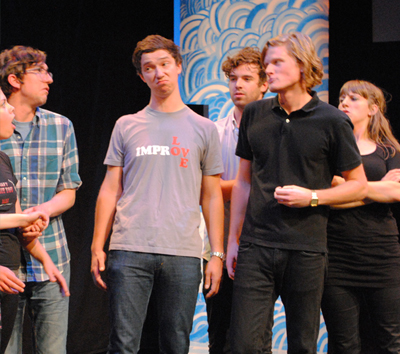 The Festival Ensemble "ECHO"
The International Ensembles are an opportunity for individual improvisers the world over to spend a week workshopping new and new-to-them improv forms. Dozens of performers apply for a handful of spots and work with guest directors to create evening performances live for you, our audience.
This year our TWO INTERNATIONAL ENSEMBLES include performers who live in Toronto, Phoenix, San Diego, Calgary, Los Angeles, Portland, New Brunswick, Edmonton, Winnipeg, Montreal and Vancouver, who have toured across Canada, across the US, and internationally, who are writers, actors, directors, musicians and stand up comedians (when they're not improvising, of course). They are television stars, Artistic Directors of theatres, comedy and theatre award winners, teachers, friends and lovers. They're also all gifted improvisers, and they're all here to entertain you.
One thing is certain — the International Ensembles are groups of people who will likely never all work together again. In some cases, you'd have to travel pretty far to see any of them on their home turf. Now you can enjoy all of them, without even leaving your seat.
When & Where

Performance Works
1218 Cartwright
Vancouver, BC
Canada

Wednesday, 7 October 2015 from 7:30 PM to 10:30 PM (PDT)
Add to my calendar
Organizer
For over a decade, the Vancouver International Improv Festival has been bringing the world's best improvisers to Vancouver for a week of shows and workshops in the name of bettering the improvisational theatre community, both here and internationally. From humble beginnings as a small tournament run by !nstant Theatre, the festival has grown away from competition and towards collaboration and heightening of the improv art form across Vancouver, Canada and the world.