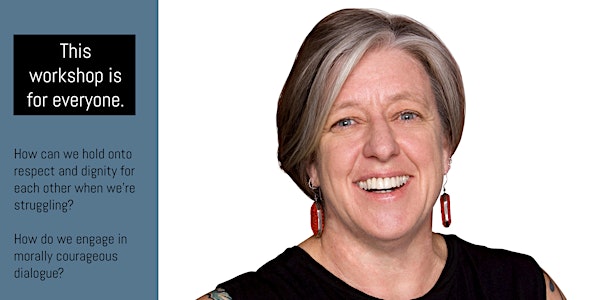 Vikki Reynolds, PhD, RCC: Rupture & Repair, Morally Courageous Dialogue
Vikki Reynolds. PhD, RCC. How to navigate morally courageous dialogues within a culture of accountability.
Date and time
Tue, Feb 11, 2020 9:30 AM - 4:30 PM PST
Location
STRETCH 180 East Pender Street Vancouver, BC V6A 1T3 Canada
Refund Policy
Contact the organizer to request a refund.
About this event
Vikki's work bridges the worlds of social justice activism and community work, bringing teachings from communities of struggle with histories of solidarity and 'shouldering each other up' in dark times. These communities are under attack from structural oppressions, mean spirited and cruel politics. https://vikkireynolds.ca
Vikki will be joined by Sacha Médiné & Allan Lindley.
Together we will explore what is required to navigate the rupture the and repair that exisits when we have moral courage within cultures of accountability.
What is our stance for justice-doing that unsettles settlers, addresses colonialism and decolonization, and is intersectional?
How can we hold onto respect and dignity for each other when we're struggling?
How can we hold on to our solidarity and our fabulous and painful histories of joint struggle against multiple oppressions including colonialism, white supremacy, legislated poverty, hetero-patriarchy, capitalism and the prison industrial complex?
How do we engage in morally courageous dialogue, with respect, across time, without getting caught up in using power-over practices or re-enacting the abuses of power we are fighting against?
How do we enact the analysis and justice-doing we want to create more of?
How can we nurture 'Cultures of Accountability', embrace hopeful scepticism, build solidarity and enact our collective ethics as social justice movements? How do we stay in the 'Zone of Fabulousness'?
When resisting powers that work to divide us, how can we enact collective accountability, embrace groundless solidarity and infinite responsibility, and create an ethical stance of believed-in hope?
This workshop is for everyone. Those working in the helping profession both front line and managers, activists, those exploring ways to enhance individual and community conversations, anyone with with a desire to strengthen their social justice lens, and develop skillful ways to engage in tough conversations, in tough times.
Proceedes support youth drug and alcohol treatment centre www.peakhouse.ca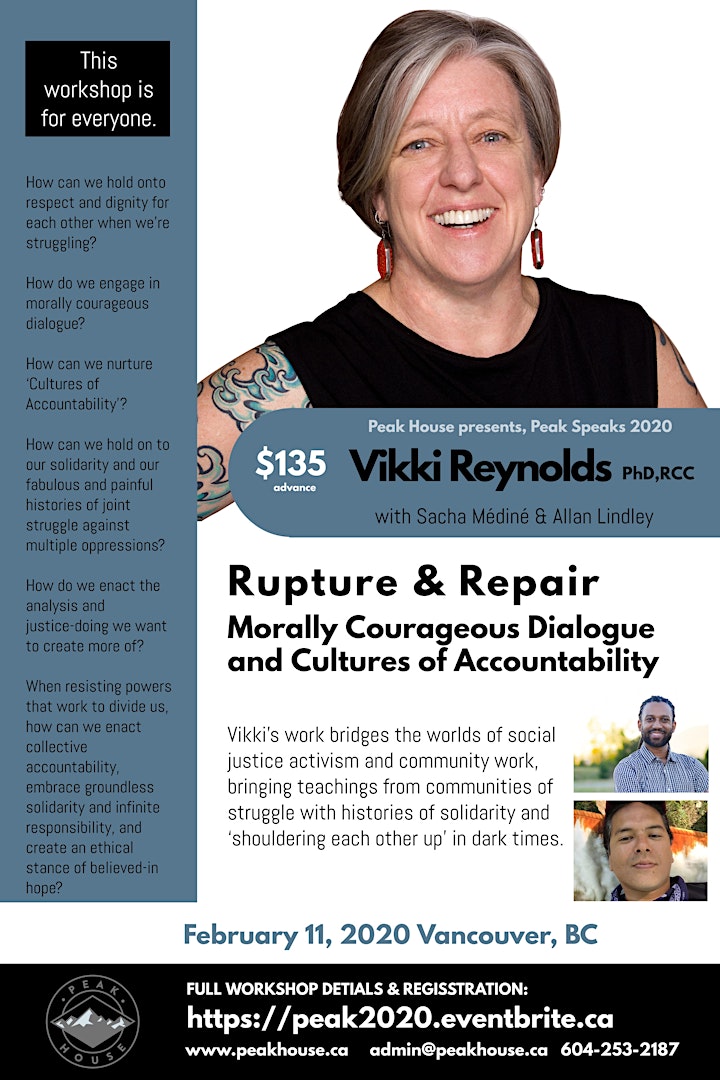 About the organizer
Established in 1988, Peak House is a Provincial Resource located in Vancouver, BC.  It is a voluntary, ten-week, live-in, treatment program for youth seeking freedom from problematic substance use.  The program is for youth of all genders between 13-18 years old.
Operating within the harm reduction spectrum with a trauma informed, client centered, and social justice framework, Peak House has been internationally recognized for utilizing a unique, collaborative, youth-driven, community-based model of care.  With a strong emphasis on inclusivity, Peak House is committed to an anti oppressive, welcoming and safe environment for youth from all walks of life, cultural backgrounds, sexual orientations, genders, gender expressions, and identities.
With a school program, recreation, art, counseling, holistic health and wellness approaches, life skills education, collaboration, family support and community engagement, Peak House works to support youth in a successful and meaningful reengagement with their home communities and the people who care for them.
Most recent awards include the Addiction Specialists & Allied Professionals of British Columbia (ASAP), Award of Excellence and the BC Association of Clinical Counsellors, Professional Care Award for exhibiting special creativity in providing counseling and mental health care.