Vikki Reynolds: Solidarity & Collective Care as 'Sanity'-making Resistance to Mean Spirited Politics & Ambient Trauma
About this event
Peak Speaks 2020,
In support of youth addiction treatment in BC, Canada.
Presentation by Vikki Reynolds PhD RCC
Peak House Therapeutic Supervisor
Solidarity & Collective Care as 'Sanity'-making Resistance to Mean Spirited Politics & Ambient Trauma
Workers are responding to suffering, hardship and oppression in situations we couldn't have imagined or planned for. We are immersed in a pandemic, which is obscuring the opioid catastrophe and all this is situated on Indigenous territories where Canada has enacted genocide and where colonization, structural racism, and genocide continue to occur. The pandemic has disrupted much of our lives and ways of working bringing disconnection and fear. Resisting Burnout in this moment means we need to go deeper than the "self-care" we are normally prescribed and foster Solidarity, Collective Care and promote our collective Mental Wellness, considering cultural, spiritual, relational and community-based ways to collectively support ourselves and our communities. We respond to the ambient/ever-present hard and hateful politics we are swimming in with the connection and collective ethics of the Zone of Fabulousness…
Bio:
Vikki Reynolds (PhD RCC) is the Therapeutic Supervisor at Peak House, and is humbled and honoured to have been connected there for 23 years! Vikki is an activist/ therapist who works to bridge the worlds of social justice activism with community work and therapy. Vikki is a white settler on the territories of the Squamish, Tsleil-Waututh and Musqueam nations. Vikki's people are Irish, Newfoundland and English folks, and she is a heterosexual woman with cisgender privilege. Her experience includes supervision and therapy with peers and other workers responding to the opioid catastrophe, refugees and survivors of torture - including Indigenous people who have survived residential schools and other state violence, sexualized violence counsellors, mental health and substance misuse counsellors, housing and shelter workers, activists and working alongside gender and sexually diverse communities. Vikki is an Adjunct Professor and has written and presented internationally. Articles & speaks free at: www.vikkireynolds.ca
There will be a moderated, live, Q&A and discussion.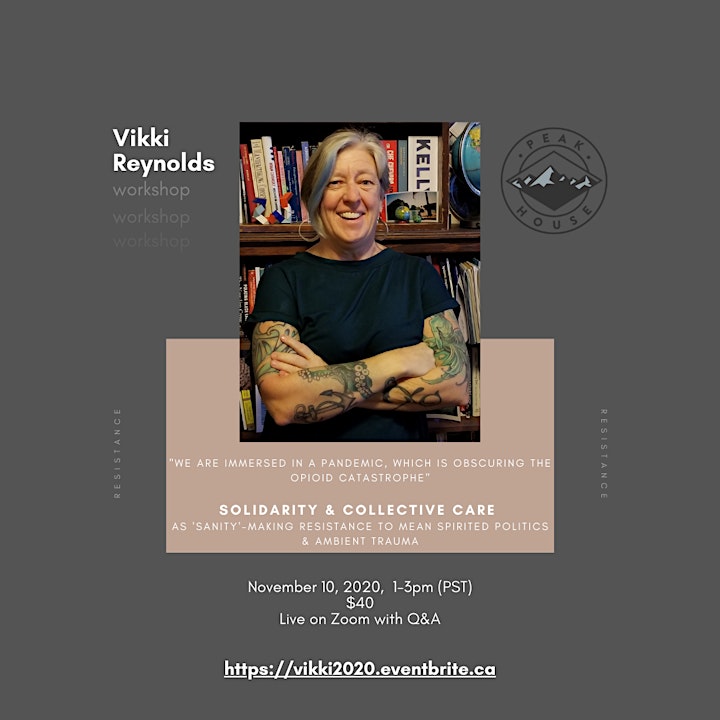 Organizer of Vikki Reynolds - Solidarity & Collective Care...
Established in 1988, Peak House is a Provincial Resource located in Vancouver, BC.  It is a voluntary, ten-week, live-in, treatment program for youth seeking freedom from problematic substance use.  The program is for youth of all genders between 13-18 years old.
Operating within the harm reduction spectrum with a trauma informed, client centered, and social justice framework, Peak House has been internationally recognized for utilizing a unique, collaborative, youth-driven, community-based model of care.  With a strong emphasis on inclusivity, Peak House is committed to an anti oppressive, welcoming and safe environment for youth from all walks of life, cultural backgrounds, sexual orientations, genders, gender expressions, and identities.
With a school program, recreation, art, counseling, holistic health and wellness approaches, life skills education, collaboration, family support and community engagement, Peak House works to support youth in a successful and meaningful reengagement with their home communities and the people who care for them.
Most recent awards include the Addiction Specialists & Allied Professionals of British Columbia (ASAP), Award of Excellence and the BC Association of Clinical Counsellors, Professional Care Award for exhibiting special creativity in providing counseling and mental health care.