Description
Join us to help plant maple trees on the east side of Adair Boulevard that will serve as a living honour guard that represents the four divisions of the Canadian Corps that served in the First World War. Trees will be positioned within the public boulevard between the shared high school facility and Gemini Sportsplex soccer field complex.
The trees are being planted as part of a series of projects through the Vimy Ridge Commemorative Tree Planting Program in anticipation of a memorial ceremony to mark the 100th anniversary of the Battle of Vimy Ridge in April of 2017, and to celebrate Canada's 150th birthday as a project of the Sesquicentennial Celebration Tree Planting program (SCTP). This project is proudly supported by the Municipality of Strathroy-Caradoc.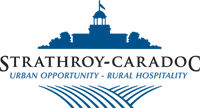 The site will be prepared for planting in advance, but we need volunteers to get the trees in the ground properly so that they'll survive and grow! We ask participants to arrive by 8:30 am at the shared parking lot of high school facility and Gemini Sportsplex. From there, volunteers will be instructed to the designated planting site.
Prepare to dress for the weather as the event will run rain or shine. Wear removable layers of light-colour clothes; long-sleeve shirts, pants and safety vests are recommended. Bring hats/sun-visors, sunglasses, lots of water, work/gardening gloves, boots/shoes (closed-toe and flat-heeled only), and sunscreen. The day will be filled with fun, and you will leave having contributed to the environmental and aesthetic integrity of our beautiful city!
If you have further questions, please do not hesitate to contact us. Thank you so much for your interest in volunteering to help with this tree-planting initiative!