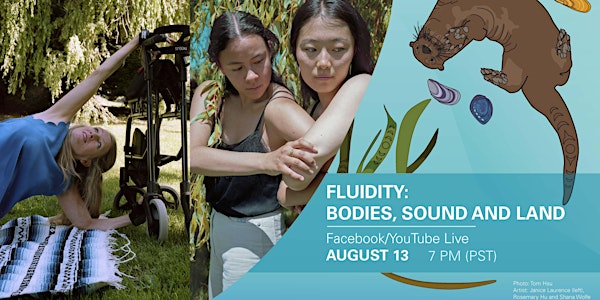 Vines 2020: Fluidity: Bodies, Sound and Land
FLUIDITY: BODIES, SOUND AND LAND
Refund Policy
Contact the organizer to request a refund.
Eventbrite's fee is nonrefundable.
About this event
THURSDAY, AUG 13 | 7 PM | YouTube/Facebook Live
Fluidity: Bodies, Sound and Land showcases the ways in which bodies, sound and land are in relationship with each other. Navigating one's relationship with bodily awareness is a long-term dialogue.
with Closed Captioning
ALL BODIES DANCE – Parts of Me (with Audio Description)
All Bodies Dance Project (ABDP) explores the intricacies of creating ensemble work with one dancer and her collection of mobility aids. What changes in her movements through episodic pain and disability? How does she interact with the world as she maintains the delicate dance between fluctuating limitations and strengths? ADBP artists Harmanie Rose as the choreographer and Janice Laurence as dancer provide a lens to examine the beauty and balancing act of living with Disability.
ANYA SAUGSTAD – Dear Ocean Roaring
Dear Ocean Roaring is a dance and live violin performance that takes place in the shore of the ocean at dusk. The work follows a group of women who describe their own stories and the sea. The performance aims to bring people's attention to the ocean as a scarce and vital body by creating space to listen and to watch. Dear Ocean Roaring is about the oceans, strength, delicacy, and value; about being a home and a resting place. Choreographed by Anya Saugstad, Music by Cindy Kao, performed and co-created by Daria Mikhaylyuk, Eowynn Enquist, Samantha Priya Wright, and Shion Skye Carter.
CAROLINE HEBERT – History Sign of Language
Caroline Hébert was born Sumain and grew up in Montréal, QC. Caroline is literate in written English and French. She is bilingual in ASL (American Sign language) and LSQ (Langue des Signes Québécoise) and has a base knowledge of Indigenous Sign Language.
Caroline has been involved with Arts/Theatre in Quebec and Ontario. In 2005 Caroline moved to Vancouver BC and took a 10 years hiatus. Caroline decides to return to the Theatre after meeting the Honorable Stephen Lytton - a formidable Indigenous Leader. Mr. Lytton invited Caroline to use a team approach and this resulted in Caroline joining Theatre.
In 2017 Caroline joined Theatre Terrific's Breath Ahh… and in 2018 she joined a production of Unsettled which was presented at the Downtown Eastside Heart of the City Festival. She hopes to continue to break barriers in the theatre and film worlds.
CAROLINE MACCAULL – Spatial Perusal
How do different environments affect the body? How does the intervention of bodies affect different spaces? We work and play in these spaces, but what do these spaces need? What do we need while in these spaces? Videography by Daniel Wester, Sound Design by Sebastián Ortiz Cruz, Performed by Seana Williams, Allison Vicente, Mackenzie Seaborn, Rachel Maddock, and Caroline MacCaull.
KÁAWAN SANGÁA (BRINGS-A-SPECIAL-DAY) WOODY MORRISON – X̱aadas Ḵ'iigaang - Haida Storytelling
A description of the training of Oral Historians, a background of Concepts then the Haida Origin Story (No concept for "Create") - the first human was Female. Then a couple of stories that demonstrate Rules of Conduct. The Role of Humour and the concept of a "Hot Mind".
LIVING WITH
Living With is an interdisciplinary experience where a cast of musicians, actors, clowns and dancers will usher audiences through a variety of emotional soundscapes, harmonies, improvised movement, and choreographed sequences. Throughout the piece, the artists explore the concept of dichotomy in terms of connection vs. disconnection and the aim to seek balance in-between. The work is largely collaborative with directors in each discipline: Movement rooted in experimental street dance, Afro Contemporary, Latin Fusion, Hip Hop, and Dancehall, is led by Her Tribal Roots; Music grounded in jazz, soul, r&b, heavily influenced by the African diaspora at large, is led by Ital Blue and Afro Van Connect; Clowning is led by Katie Karjala of the Dusty Flowerpot. Embodied intersectional stories of the cast is woven into the piece to bring awareness to the idea of a harmonious "living with" – i.e. with nature, with one another, and with self.
SARAH WONG – pliant spaces
pliant spaces is an improvised dance performance influenced by my experience in tai chi. Touching on themes of ritual, transformation, and coexistence, this work is a love letter to the community I practice with and the environment I practice in. It marks the beginning of my journey as I learn to carry the weight of preserving tradition. This dance is a practice of showing up as I delicately balance my body in a shifting universe.
SHANA WOLFE & ROSEMARY XINHE HU – Between Land and Language
This piece will be about "home". It's a brief telling of our bodies' histories on this land and lands we long for. Allowing comfort and discomfort within us to navigate our lives, without ruling us. Noticing it's there. Through movement, words, and each other we can be representations of the fragments of our homes.
VINES 2020
We have many other online events and sonic performances for you to enjoy throughout our festival of August 5 - 15th. Please go to https://vinesartfestival.com/all-events/ to read more.
Donations are welcome at https://www.canadahelps.org/en/charities/vines
Donations will go to:
- 50% Vines Artist Support Fund for full-spectrum artist care in the fall
- 25% Friends of CCAP fundraiser for the DTES
- 25% to Harmony garden. X̱wemelch'stn pen̓em̓áy a garden on the Squamish reserve