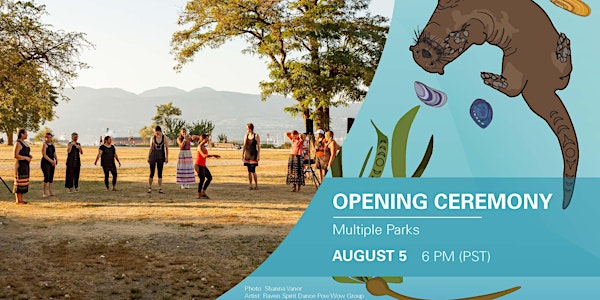 Vines 2020: Opening Ceremony
Vines Opening Ceremony
Refund Policy
Contact the organizer to request a refund.
Eventbrite's fee is nonrefundable.
About this event
Opening Ceremonies will be our only in person event occurring in multiple parks including Creekside Park, Strathcona Park, Hadden Park, and Trout Lake Park. Each park will hold intimate circles; bringing together a few audience members and artists to explore the importance of land based art, justice and existence.
Please register for a circle at one of our four locations, by selecting that parks ticket. We recommend you sign up to a park that is close to you or that you have a relationship with. It will be a surprise which artists are at what park! Each location has space for 50 audience members, audience will be seated with physical distance between each person, or group to ensure health safety.
with ASL Interpretation at Trout Lake Park
Artists include:
JACKY ESSOMBE, VALEEN JULES & JAZ WHITFORD, DESIRÉE DAWSON, AUDREY SIEGLE, DALANNAH GAIL BOWEN, KIN BALAM, SENAQWILA WYSS, SARA BROOKE-CADEAU, CHEYENNE GARDNER, MARISA GOLD, ALYSSA AMARSHI, MARIAM BARRY & MORE ARTISTS TBA
CREEKSIDE PARK | 1455 Quebec St | X̱áywá7esks
HADDEN PARK (KITSILANO BEACH) | 1015 Maple St |x̱epx̱epáy̓em
STRATHCONA PARK | 857 Malkin Ave |sḵwácháy̓s
TROUT LAKE PARK | 2120 E 19th Ave |Too far inland for village site
VINES 2020
We have many other online events and sonic performances for you to enjoy throughout our festival of August 5 - 15th. Please go to https://vinesartfestival.com/all-events/ to read more.
Donations are welcome at https://www.canadahelps.org/en/charities/vines/
Donations will go to:
- 50% Vines Artist Support Fund for full-spectrum artist care in the fall
- 25% Friends of CCAP fundraiser for the DTES
- 25% to Harmony garden. X̱wemelch'stn pen̓em̓áy a garden on the Squamish reserve