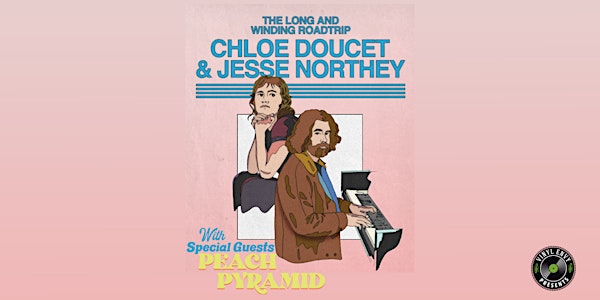 Vinyl Envy Presents : Jesse Northey | KT Laine | Peach Pyramid
Indie folk
When and where
Location
Vinyl Envy 1717 Quadra Street Victoria, BC V8W 2L7 Canada
About this event
Sadly Chloe can no longer make the show but the wonderful KT Laine has stepped in.
_____JESSE NORTHEY_____
There's no smoke and mirrors when it comes to Jesse Northey's music; The goal is to explode the artifice of masculinity, norms, and ambition. His upcoming EP titled Onion Knight will be Northey's first album released under his own name. Produced by Thomas D'Arcy (The Sheepdogs, NOBRO, Yukon Blonde) at Taurus Studios, D'Arcy infuses Northey's sensitive indie rock with vintage analog warmth and alt-rock swagger.
Northey has a varied career as a recording engineer, producer, musician and artist manager. As frontman for Jesse and the Dandelions, Northey has opened for Hollerado, Said the Whale, and July Talk, and has toured Japan. In a post-covid world he hopes to take his melancholia-psychedelia on tours of Canada, Germany, and back to Japan.
Now living in Toronto, he is President and co-owner of the independent record label Victory Pool and manages Witch Prophet, The Deep Dark Woods, Marlaena Moore, Ghost Woman and Ombiigizi among others. Signed by High Priestess Publishing in 2021, he composes for film, television, games and ads from his home studio. In 2021 Jesse's song Hope Floats was placed in an Amazon documentary of Pete Buttigieig former Indiana Mayor, turned presidential candidate.
"Onions are associated with crying," Northey says. "I wanted to conjure an imagery that confronts the stoic heroism associated with masculinity and take a jab at it." The feel of Onion Knight is classic but also urgent: it's peopled with modern anxieties that bloom with a psychedelia that is reminiscent of the '60s. Citing Paul McCartney, and Elliott Smith as influences, the Onion Knight's sound is warbled, as though heard from another room.
https://jessenortheymusic.bandcamp.com/releases
_____KT LAINE_____
KT weaves originals that are both fragile and impactful. She blends her warm vocals with prarie-infused guitar tones and stark synth lines. Hailing originally from Edmonton in the Alberta Praries, where she fronted several bands, she now resides in Victoria, BC where she focuses on her solo material.
https://ktlaine.bandcamp.com/releases
_____PEACH PYRAMID_____
Peach Pyramid is the sonic exhale of Jen Severtson. Weaving shimmering guitars into Severtson's blooming vocals, the group delivers lush palettes, punctuated by a warm and familiar rhythm section of bass and drums. Based in the rising art capital of Victoria, British Columbia, the group integrates the city's foundation of indie rock into Jen's narrative and earnest lyricism drawn from her roots in prairie-based Calgary, Alberta.
Peach Pyramid's sophomore release, Bright Blue, showcases effervescent pop gems that are anchored by narratives of love and self-doubt. Blushing vocal harmonies are backed by a rich foundation of guitars and colourful rhythms leading through the seasons of sparkling spring into a late summer haze.
Re-joined by producers Colin Stewart (Dan Mangan, Black Mountain, Destroyer) and Kathryn Calder (The New Pornographers, Frontperson, Immaculate Machine) the EP stays true to its honest Canadian influences, including Feist and Bahamas.
Bright Blue was released on Oscar St. Records on Sept. 20th, 2019. Bright Blue follows Peach Pyramid's critically acclaimed debut album Repeating Myself.
https://peachpyramid.bandcamp.com
--------------------
$15
7.30pm - Doors
8pm - Showtime
--------------------
We are happy to announce that we're back to hosting live music on our stage!!
With the help of FACTOR and Creative BC from Sept 17th we'll be blessed to have some beautiful artists cross our stage again. Shows are Friday and Saturday evenings. Tickets can be purchased online in advance through the Eventbrite link on the Facebook event page. If online ticket purchases don't sell the show out there will be tickets available at the door.
It's at your discretion to wear a mask or not inside. Dancing is a thing again! It can feel cosy in here with a full house and we understand apprehensions as things open back up. We're all navigating this differently as we move back to some sort of semblance of normalcy, we'll strive to accommodate all in the enjoyment of musical performance.
Thanks for you understanding and support, we can't wait to see y'all!!