Description
Our exclusive VIP Kickoff Party celebrates Canada's inaugural FinTech Week. The VIP Kickoff Party will host 100 of the most influential industry leaders, dignitaries, influencers, and executives.
Access to this event is included in the Canada FinTech Week all-access pass.
Companies in Attendance Include:
500 Startups
Accenture
Accenture Strategy
Air Canada
Algorand Foundation
American Express
Apple
Avantex
BDC Capital
BDO Canada LLP
BLG
Blockchain Radio
Blockchain Research Institute
Bloomberg
BNN Bloomberg
BMO
BNY Mellon
Borden Ladner Gervais LLP (BLG)
Borrowell
C.D. Howe Institute
CAIL
Canada Life
Canadian Bankers Association
Canadian International Council
Canadian Tire Corporation
Chanel
Chris Hadfield Inc.
CIBC
CIBC, Alternate Solutions Group
Citi Bank
Clientelligent
Coincurve
Communitech
CPQI Group
Crowdmark
Dataperformers
DC Process Engineering Consulting
Deloitte
Deshret Capital Corp.
Dessa
Dickinson Wright LLP
Digital Finance Institute
Digital Innovation
Distillery District Magazine
DMZ
Duncan Consulting
Easy Financial
Elevate8
Elite Model Mangement
Elite Toronto
Environics Research Group
ePayRails
Equity Research
Exagens
Exiger
EY
Facebook
Farm Credit Canada
Fido
Finaeo
FinanceIt
FinAvator
Flywire
Fostrum
Framework Venture Partners
FrontFundr
FundThrough
Genesys
GMP Securities
Google
Government of Canada
Government of Ontario
Government of Quebec
Gowling WLG
Greta Constantine
Hill Street Beverage Company
Horizn
HSBC
Huawei Technologies
IBM
IFC
Indigo
Information Venture Partners
Innovate BC
Interac Corp
Interlapse Technologies Corp
International Monetary Fund
JP Morgan
JPMorgan Chase & Co
Kapitalwise
KPMG
LaBarge Weinstein
Lendified
Lending Club
Lending Loop
LendingClub
Lighthouse Labs
London & Partners
Luge Capital
M2S Capital
Manulife
Maria Smith & Associates LLC
MaRS Discovery District
Mastercard
Matte PR
Mattel
McGill
Media Plant
Microsoft
Ministry of Economic Development, Job Creation and Trade
nanopay Corporation
National Bank of Canada
Nest Wealth
NEW STANDARD BEER
Northwest Capital Partners
ODAIA.AI
OverActive Media Group
Overbond
Paays
Paynet, Inc.
PayPal
Peoples Group
Pepsico
Planswell
Plooto
Pop Codes
Portag3
Portfolio+
PriceMetrix
Progressa
Proximiteam
PwC
Quantium
RBC
RBC Capital Partners
RBC Ventures
RegTech Canada
Reuters News
RFi Group
Rocket Data Systems
Rotman School of Management
Roynat Capital
Ryerson
Saks Fifth Avenue
SAS Canada
SaveForward
Scotiabank
Senate Of Canada
Sensibill
Shopify
Simplii Financial
Sinch
Smooth Commerce
Soho House & Co
Spotify
Stanton Chase
Sumitomo Mitsui Banking Corporation, Canada Branch
Sun Life Financial
Tangerine
Tappy Tech
Tapscott Group
TD Bank
The AML Shop
The Globe and Mail
The Logic
The Princess Margaret Cancer Foundation
Thomson Reuters
TokenFunder.com
Toronto District School Board
Toronto Finance International
Toronto Global
Toronto Region Board of Trade
Torys LLP
TransPod Inc.
Trend Micro
TWG
Uber
UBS
UNDP
Unifai Solutions
University of Toronto
VanHack
VAPHR
VersaPay
Wave HQ
White Rabbit Communciations
Wildeboer Dellelce LLP
Womans College Hospital
WorldGaming & Collegiate StarLeague
Zensurance
Proudly Part of the Canada FinTech Week (CFW)
Canada FinTech Week (CFW) was created as a way to bring together the entire FinTech ecosystem for a week of conferences, workshops, networking events, parties, meetups, exhibitions and much more. CFW is the largest FinTech gathering in Canada with over 3,000 participants, from around the world, and over 16 unique events. The FinTech ecosystem in Canada has been thriving since 2014 and CFW is a chance to celebrate Canadian Innovation in the finance sector.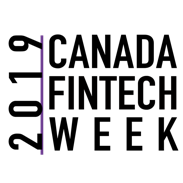 To learn about the Privacy Policy of the Digital Finance Institute, please click HERE.