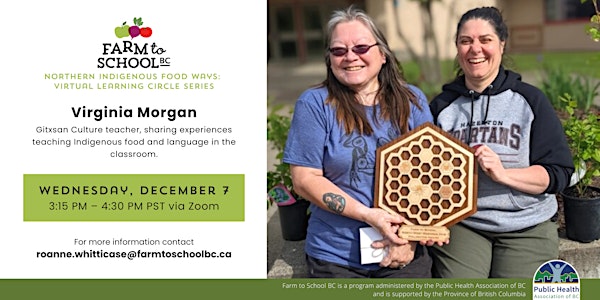 Virginia Morgan | Northern Indigenous Food Ways: Learning Circle Series
Virginia Morgan - Gitxsan Culture teacher, sharing experiences teaching Indigenous food and language in the classroom.
About this event
This series is presented to provide an opportunity for educators within the K-12 education system in gaining or advancing skills and knowledge to apply Indigenous food ways and teachings within their food literacy curriculums and projects.
The series is presented to support Northern Educators, but is open to all who would like to learn, connect and witness Indigenous food ways specifically in the Northern context.
Dates: Dec 7th / Jan 11th / Feb 15th / March 8th
Time: 3:15-4:30pm
Speakers Include:
Dec 7th: Virginia Morgan - Gitxsan Culture teacher, sharing experiences teaching Indigenous food and language in the classroom
January 11th : Tea Creek Farm - history of Indigenous food in the Northern Context, Reconciliation & experiences of tea creek model
Feb 15th: Dr. Daniel Sims (UNBC) - How contact and colonialism have affected Indigenous food ways
March 8th: TBA