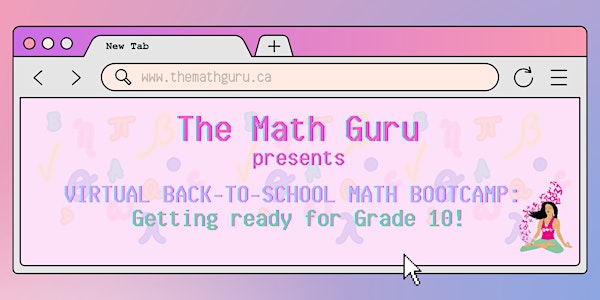 VIRTUAL Back-to-School Math Bootcamp: Get Ready for Grade 10!
This virtual bootcamp is designed for students who want to boost their confidence in math before the bell rings in September!
About this event
This bootcamp is VIRTUAL! We'll be hosting this bootcamp over Zoom, and we'll send you the link to connect closer to the start date!
Dates: Please note, this bootcamp takes place from 12:30pm-2:30pm (EST) every day from Monday August 22nd through Friday August 26th, 2022! By purchasing this ticket, you are signing up for the entire bootcamp, and committing to coming each day!
What's the deal? We know how it is - all that sunshine, heat & humidity tends to melt away hard-earned math knowledge. How awesome would it feel to enter your new math class feeling totally prepared and confident?! Our bootcamps will cover the key concepts learned over the previous year, ensuring that the necessary pre-reqs are in place, plus we'll pre-teach a little bit of what you're going to need to know in September!
Who is this for? All kids going into Grade 10 in September!
Ideal for kids who are currently sitting between 65% - 80% in their current course!
What do you need to bring? Your fave school supplies if you have any - we have everything else!
Want to know more? Shoot us an email at booking@themathguru.ca!
Please note we require a minimum of 3 students to run a bootcamp! Send this to your friends and classmates so that they can join in too!
Should the camp not run, you will be notified ahead of time, and have the option for a refund or to put your purchase towards a credit for PowerUP Program where we'll create a customized one-on-one bootcamp-like experience for you!