Join us for the virtual celebration of IN CONCRETE by Anne Garréta, with Emma Ramadan and Lauren Elkin
About this event
The newest novel by Prix Medicis-winner Anne Garréta, In Concrete (Deep Vellum) is a feminist inversion of a domestic drama crossed with Oulipian nursery rhyme.
Garréta's first novel in a decade follows the mania that descends upon a family when the father finds himself in possession of a concrete mixer. As he seeks to modernize every aspect of their lives, disaster strikes when the younger sibling is subsumed by concrete.
Through puns, wordplay, and dizzying verbal effect, Garréta reinvents the novel form and blurs the line between spoken and written language in an attempt to confront the elasticity of communication.
*
ANNE GARRÉTA is a graduate of the Ecole Normale Supérieure, received her License de Lettres at the Université Paris 4 (Sorbonne), her Maitrise and her D.E.A at the Université Paris 7 (Diderot), and a PhD at New York University. The author of six novels, Garréta was coopted to the Oulipo in 2000. Her first novel, Sphinx (1986), which caused a sensation when Deep Vellum published its first English translation in 2015, tells a love story between two people without giving any indication of grammatical gender for the narrator or their lover. She won France's prestigious Prix Médicis in 2002 and the Albertine Prize in 2018 for her book, Not One Day, which was also nominated for a Lambda Literary Award. Garréta teaches regularly in France at the Université Rennes 2, and more recently at Paris 7 (Diderot), and is a professor at Duke University.
EMMA RAMADAN is a literary translator of poetry and prose from France, the Middle East, and North Africa. She is the recipient of a Fulbright, an NEA Translation Fellowship, a PEN/Heim grant, and the 2018 Albertine Prize. Her translations include Sphinx and Not One Day by Anne Garréta, Pretty Things by Virginie Despentes, a co-translation of Me & Other Writing by Marguerite Duras, and A Country for Dying by Abdellah Taïa, which won the 2020 PEN Translation Prize.
LAUREN ELKIN is the author of Flâneuse: Women Walk the City (FSG). Her translation of Simone de Beauvoir's rediscovered novel The Inseparables will be released in September 2021; past projects include Claude Arnaud's biography of Jean Cocteau (with Charlotte Mandell), for which they were awarded the 2017 French-American Foundation Translation Prize, and Michelle Perrot's fascinating history of the bedroom, The Bedroom: An Intimate History. Her next books are 91/92: A Diary of a Year on the Bus (Semiotext(e), September 2021) and Art Monsters: On Beauty and Excess (forthcoming, FSG). After twenty years in Paris, she now lives in London.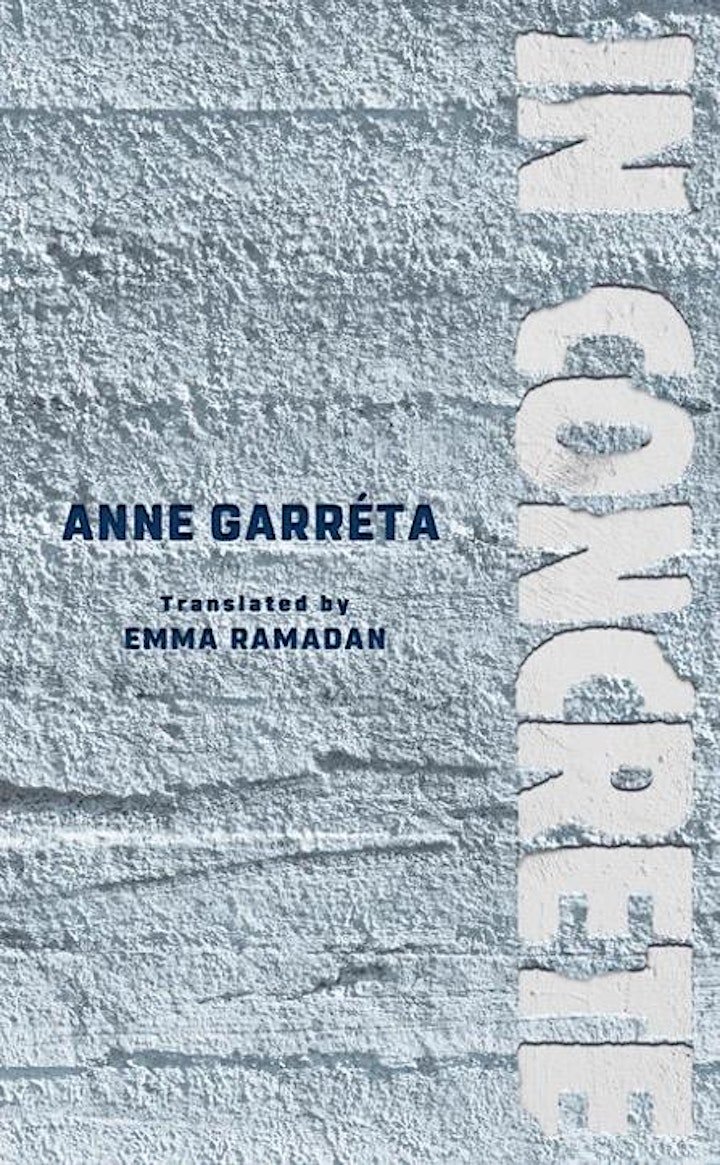 Organizer of Virtual Book Launch for IN CONCRETE: Emma Ramadan and Lauren Elkin