A fundraiser to support mental health through the arts.
About this event
This is an annual fundraising project to support
This project began in 2016 by Christine Kumchy, an occupational therapist. It is a labour of love designed to bring artists and people together for mental health. This book is made up of art drawn by people from and/or living in Ottawa, and is compiled into a colouring book. The proceeds from the sales support three non-profit causes:
1) A.R.T. in Action Ottawa (who provide free art workshops for youth with multiple barriers),
2) C.H.E.O. YouthNet Pens & Paint program (an early intervention art-based program that focuses on coping with stress and understanding mental health through visual arts and creative writing), and
3) The Cultural Arts Studio (dedicated to the sharing and preservation of Afro-Caribbean culture through dance, wellness & community programs).
__________
PERFORMANCE BY: SHANE PHILIPS
Shane Philips is a singer-songwriter who was raised in a family of singers on the banks of the Grand River in farm town Canada. His devotion to singing flourished early on as a young child where from a church choir in his elemenetray years, he transitioned into classical Italian opera. It is here where he developed the foundation for what is now his immeasurable strength and technical ability as a singer. As a writer, Shane's songs have been used in film and TV, and he has also written compositions for community based organizations. As an actor, singer and dancer, he has starred in a variety of musicals including, "We Love Harry Belafonte", "Sweet Soul Music" as well as "The Rat Pack", playing Sammy Davis, Jr. gracing stages all across North America and Europe. As luck would have it, Philips eventually became a contestant on the nationally televised show, "The Voice," and more recently, sang with living legend Stevie Wonder at the Scotia Centre in Toronto.
www.shanephilips.com
____
PERFORMANCE BY: KIMBERLY SUNSTRUM
Kimberly Sunstrum is a heart-stopping performer. Her song writing is deep, evocative, and powerful and her music delightfully impossible to pin down. It's an inspired blend of the grooves she listened to growing up in Sub-Saharan Africa and Canada. She strings together sounds from South African pop hits, classic R&B, old-time country and 70's Motown power bops and spins them all in to her own unique melodies.
She writes about the world as she sees it with a powerful poetry and grace. Mixed-race identity, feminism, love, family, and queerness are reflections of her life and constant themes in her songs.
Her enigmatic passion pours out of her with every single performance leaving audiences feeling energized and excited.
Sunstrum released her latest single, Confessions in August 2018. It's a follow-up from her 2017 album The Kid, The Wall, and The Box and the title single to her upcoming album.
Website: https://www.kmbrlysnstrm.com/
______
LIVE ART BY: PATRICK FRASER
Comic Book Artist • Writer • Illustrator
Patrick Fraser is a comic book artist, writer and illustrator residing in Ottawa, Ontario Canada. His use of bold lines and over-exaggerated, caricature style are inspired by artists such as Robert Crumb & Keith Haring and Walt Disney. Using the alias 'Eraser Crumbs', he is current creating a comic book series about a futuristic, retrospective, blue, heroic pig called 'GIGGA PIG', which will debut in 2021.
______
A huge thank you to our 2020 Artists who have contributed to the 5th Ottawa Colouring Book For Anyone!
2020 Artists:
Audrey Aylwin-Ratté
Gérard Bélec
Kaitlyn Brady
Clara Brebner
Jaiya Burnett
Douglas Cardinal
Beverley Chomyn
Ava ChuAnn Darbyshire
Deryn Dent
Ada Defreitas
Alayna Defreitas
Maria Elias
Jennifer Emmett-Côté
Elena Ibrahim
Eloise Ferrer
Veronica Juliette Fondjo
Patrick Fraser
Sara Fraser
Emma Hebert
Alexander Heemskerk
Nakazzi Hutchinson
Mitsugi Kikuchi
Courtney Kolbe
Cullen Kong
Christine Kumchy
Marie-Daphné Laguerre Morgan
Ellen LeeKara Lee
Charlene Letemplier
Dariia Lischenko
Emi Lomibao
Tracy Ludmer
Georgia Malpas
Natalie Mears
Antonia Melessanakis
Catherine McKenney
Shivani Patel
Jody Pedersen
Elizabeth Potvin
Mel Rapp
Suzan Richards
Lesley Robb
Rebecca Robertson
Richard Robinson
Colleen Summers
Nikki Tubongbanua
Nathen H.
Mailyne K.
Julia Valcin
Cara Vezina
Tyus Welch
Evelyn Zhang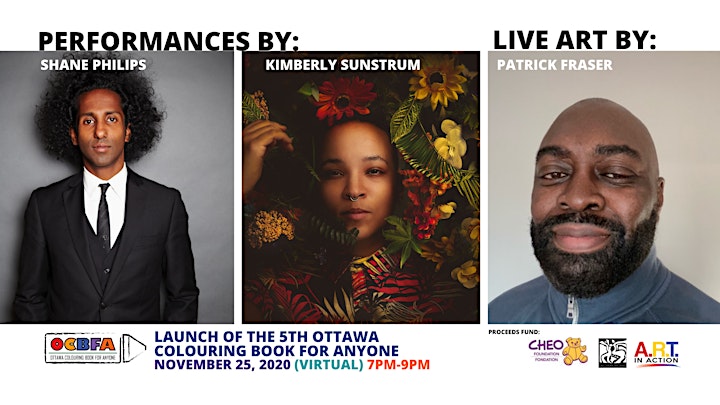 Organizer of Virtual Book Launch & Fundraiser! #5 Ottawa Colouring Book For Anyone