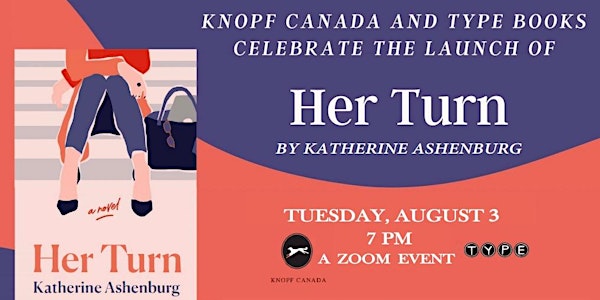 Virtual Book Launch: HER TURN by Katherine Ashenburg
Join us for the virtual celebration of Her Turn by Katherine Ashenburg
About this event
For this event, Katherine Ashenburg will be in conversation with Judith Pereira. This event will be streamed on Type Books' Zoom channel. Attendees must register through Eventbrite to receive this access link.
*
For fans of Nora Ephron and Jennifer Weiner, here is Katherine Ashenburg's witty, contemporary new novel about a forty-something newspaper columnist navigating her bold next chapter, set in Washington against the 2015 US presidential primary.
In the autumn of 2015, forty-something journalist Liz is working at a national newspaper in Washington, D.C., where Hillary Clinton's run for the presidency is the talk of the town. The divorced parent of a university-age son, she appears to lead a full, happy life: devoted friends, a job she adores, a breezy dating life. But deep inside, Liz is stalled in neutral, stuck in a clandestine affair with her boss and still brooding on her marriage, which ended in betrayal, hurt and anger ten years ago.
Liz's job is to edit "My Turn," a column of personal essays from readers. Her tidy life is upended when a submission about a marital squabble arrives from Nicole, the woman who had an affair with Liz's husband and is now his wife. Wife Two has no idea that she is sending an essay to Wife One, and Liz keeps this secret as she engages in an increasingly personal critique of the piece. But the existence of the essay destabilizes Liz, and she starts acting erratically—publishing provocative essays that infuriate her colleagues, investing in a pile of unread self-help books about "forgiveness" and indulging in questionable romantic decisions. Soon she is caught in a tangled web of her own making, with no easy escape.
*
Judith Pereira is The Globe and Mail's Arts Editor.
Katherine Ashenburg has worked as an academic, a CBC Radio producer and the Arts and Books editor of The Globe and Mail. She has written about travel for the New York Times and architecture for Toronto Life magazine. Her books include Going to Town: Architectural Walking Tours of Southern Ontario Towns, The Mourner's Dance: What We Do When People Die, The Dirt on Clean: An Unsanitized History, and the novels Sofie & Cecilia and Her Turn. She lives in Toronto.