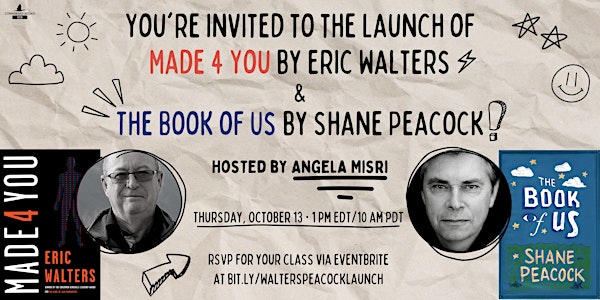 Virtual Book Launch: Made 4 You and The Book of Us
Join us in celebrating the launch of two new YA novels: The Book of Us by Shane Peacock and Made 4 You by Eric Walters.
About this event
Librarians, teachers and their classrooms, and readers of YA are all welcome to attend this virtual event with celebrated authors Shane Peacock and Eric Walters in conversation with host Angela Misri as they launch their two new YA novels!
Join us for conversation, Q&A, and giveaways including the chance to win a free author visit with Shane or Eric and copies of both novels, as well as Angela's newest book ValHamster.
Open to classrooms across Canada!
The event will take place at:
1 pm EDT / 12 pm EST
10 am PDT
10 am MST / 11 am MDT
11 am CST / 12 pm CDT
1 pm AST / 2 pm ADT
2:30 pm NDT
Copies of the books are available for purchase through our official bookseller, Tinlids, by using this link or by emailing: orders@tinlids.ca
About The Book of Us
It's the summer before grade twelve, and sixteen-year-old Noah Greene is in the relationship of a lifetime with his brilliant and book-smart girlfriend, Miranda Owens. But when Miranda overhears his private conversation with another girl, what he says destroys everything they've built, shattering Noah's world.
Determined to make amends, Noah sets out to truly understand the harm his words have caused and maybe become worthy enough for Miranda in time for prom. Along the way, he's been turning his journey into a manuscript called The Book of Us and wants to give it to Miranda to prove to her how far he thinks he's come.
What did Noah say that upset Miranda so much? What will she say when he finally asks her out again? Has he been able to mend the harm he's caused, or are some things beyond repair?
About Made 4 You
Becky James lives in a small town where nothing ever changes. But there's something very different about the new student, Gene Newman.
Brilliant, talented, and socially awkward, Gene is like nobody else Becky has ever known. Little does she know just how different he actually is.
Gene confides in Becky that he has a secret. More than that, he is a secret. And, apparently, it's a secret worth killing for.
About Shane Peacock
Shane Peacock is an author, playwright, journalist, and screenwriter, published in 20 languages in 18 countries. He is a seven-time winner of the Junior Library Guild of America Selection, twice winner of the Arthur Ellis Award, and has been short-listed for the Governor General's Award, 3 times for the TD Canadian Children's Literature Award, and the Marilyn Baillie Picture Book Award. His young adult novels include the acclaimed Boy Sherlock Holmes series, the Dylan Maples Adventures, and The Dark Missions of Edgar Brim trilogy. He lives in Cobourg, ON with his wife, journalist Sophie Kneisel.
About Eric Walters
Eric Walters began writing in 1993 as a way to entice his grade 5 students into becoming more interested in reading and writing. Walters has now published 120 novels and picture books. His novels have become best-sellers, been translated into 16 languages, and have won over 100 awards, including 8 Forest of Reading awards and the 2020 Governor General's Literary Award. He conceived of the I Read Canadian Day and is a tireless presenter, speaking to over 100,000 students per year across North America. In 2014, Walters was named a Member of The Order of Canada. He lives in Guelph, ON with his wife, Anita, and they have 3 grown children – Christina, Nicholas, and Julia – and 6 grandchildren.
About Angela Misri
Angela Misri is an author and journalist of Indian descent. She was born in London, U.K. and briefly lived in Buenos Aires before moving to Canada in 1982. Angela is the author of the Portia Adams Adventures series and several essays on Sherlock Holmes. She earned her BA in English Literature from the University of Calgary and her MA in Journalism from the University of Western Ontario. As a former CBC Radio digital manager and the Digital Director at The Walrus, Angela is never offline (although she prefers to write long form in notebooks). Angela plays MMORPGs, speaks several web languages, and owns too many comic books. She currently lives in Toronto, ON.