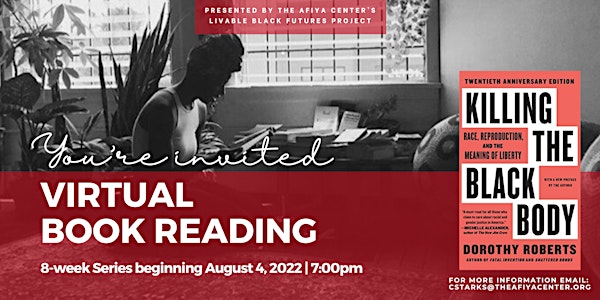 Virtual Book Reading- "Killing the Black Body" by Dorothy Roberts (Ch. 6)
Join us for an 8-week virtual book reading of Dorothy Roberts' Killing the Black Body.
About this event
This is an 8-week, bi-weekly series exploring Dorothy Roberts' Killing the Black Body. Professors Stacie McCormick and Allison Tomlinson will lead participants through a community discussion dissecting the text chapter by chapter as it highlights the critical issues surrounding reproductive health at the intersection of race, class, and gender.
In the wake of the Dobbs decision, the Livable Black Futures Project, powered by The Afiya Center, seeks to engage our community in educating ourselves on the complicated history of America's systematic abuse of Black women and the discrimination they've faced in the fight for their reproductive rights. Together, we will examine how the current landscape relates to the history of oppression against Black bodies through a reproductive justice lens that expands beyond abortion.
We will kick-off our first virtual meet-up on August 4 with an introduction to the text and an overview of the format of the series.
August 4 | Kickoff- Introduction to the Virtual Book Reading
Aug 18 | Chapter 1- Intro/Reproduction in Bondage
Sept 1 | Chapter 2- The Dark Side of Birth Control
Sept 15 | Chapter 3- From Norplant to the Contraceptive Vaccine
Sept 29 | Chapter 4- Making Reproduction a Crime
Oct 13 | Chapter 5- The Welfare Debate
Oct 27 | Chapter 6- Race and the New Reproductive
Nov 10 | Chapter 7- The Meaning of Liberty
*Readers are encouraged to purchase the book from their local Black-owned bookstore and follow along in the reading chapter by chapter.