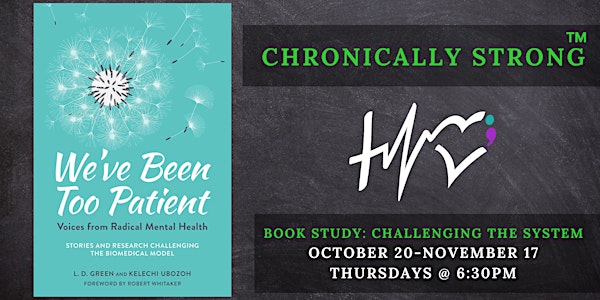 VIRTUAL Book Study: we've been too patient
Voices from Radical Mental Health--Stories and Research Challenging the Biomedical Model
Refund Policy
Contact the organizer to request a refund.
Eventbrite's fee is nonrefundable.
About this event
"Book studies allow for community, but also give space for secondary discussion. Where a support group shares more exclusively personal experiences, the book study lets us focus on the book but then ALSO share personal things if we feel compelled. It may draw a crowd of people who don't feel comfortable coming thinking they must share their story but than be pleasantly surprised how comfortable they actually are sharing during the book focused discussion." ~Previous Study Participant
Sign up via Eventbrite to attend.
You won't want to miss this challenging anthology about personal mental health experiences and a thoughtful challenge to the biomedical approach that some argue is increasing rates of unresolved mental health concerns and the stigma surrounding mental health.
Chronically Strong is committed to encouraging community conversation about the untalkable and shattering perceptions of what mental wellness models must look like. We are dedicated to our belief that people get stronger when their community rallies around them and provides the relational support that all humans need.
While there is a facilitator present, helping to guide the discussion, they do not pretend to have all the answers and the group discussion gets shaped by the participants themselves.
We invite you to dig into this gritty conversation along with us, where there is no judgment, no right or wrong, and an abundance of acceptance.
While this is not designed to be a support group, it is understood that some personal experiences may be shared and therefore we ask all participants to respect group and individual privacy. Who you see here, what you hear here, stays here.
This study is appropriate for ages 16 & up. This study is also an excellent opportunity for those in the mental health field to have their ideas challenged and to see the point of view of others who may also be receiving care. Come and find connection with others who are trying to "figure it out" just like you. Come for every session, a couple sessions, or just one session. We are here for you.
To order your book click here.
This is a VIRTUAL Event. You will receive your log on information the week the study starts.
READING SCHEDULE
10/20/2022 Readings:
Foreword by Robert Whitaker
Editor's Introduction by Kelechi Ubozoh and L.D. Green
Part One: Narrative as a Radical Healing Strategy: Personal Stories of Lived Experience with Mental Health
Dear Dr by Leah Harris
To Call Myself Beloved by Leah Harris
Can't We Just Pray It Away: Faith Communities and Their Role in Mental Health Support by Jenee Darden
Untitled by Chris Anastasia
10/27/2022 Readings:
Unfrozen by Lyndsey Ellis
How to Tame a Flying Dragan by Anita Roman
How My Friends Showed Up: Mutual Aid by Kelechi Ubozoh
We've Been Too Patient: How Mutual Aid Can Improve Therapy and Transform Society by L.D. Green
Who Do You Think You Are? by Shizue Sigel
ECT: Day One by Alice Mignon
11/03/2022 Readings:
For Psychiatric Survivors: Friends Make the Best Medicine by Imogen Prism
From Burning Man to Bellevue: A Hero's Journey by Jeffrey Gaines
Infiltrating the Mental Health Industrial Complex: On Being a Mental Health Patient-Professional by Elisa Magon
On Becoming a Politicized Healer by Jacks McNamara
Apples and Oranges by L.D. Green
Where Icarus Flew by Ken Paul Rosenthal
11/10/2022 Readings:
Occupational Therapy by Casey Gardner
She Wasn't Crazy by Kelechi Ubozoh
Part Two: Radical Interventions: Challenging the Biomedical Model and Stigma with the Recovery Model
What is Radical Mental Health? By The Mindful Occupation Collective
What's There to Be Proud Of? By Patrick Corrigan
Treating Trauma Through the Imagination: Therapeutic Effects of Simulation and Mimetic Induction by Alisha Ali and Stephan Wolfert
11/17/2022 Readings:
Underground Transmission and Centering the Marginalized: Collaborative Strategies For Re-visioning the Public Mental Health System by Sascha Altman DuBrul
Dangerous Gifts: A New Wave of Mad Resistance by Jonah Bossewitch
The Intersection of Mental Health, Communities of Color, and Suicide by Kelechi Ubozoh
Afterword: Mental Health in the Age of Perpetual Crisis by LD. Green
Epilogue: The Power of Narrative Therapy in the Recovery Model by Jessie Roth
About Chronically Strong
Chronically Strong is a 501c3 nonprofit organization dedicated to promoting mental health awareness and encouraging community conversation on things that are untalkable. Gina founded Chronically Strong after her daughter, Katie, died by suicide on her 53rd suicide attempt. We were recently featured in an article written by the Global Leadership Summit. To learn more about programs that we offer, visit our website.
For more information on how you can volunteer, send us a direct message at chronicallystrong23@gmail.com or call Gina at 717-857-6722,