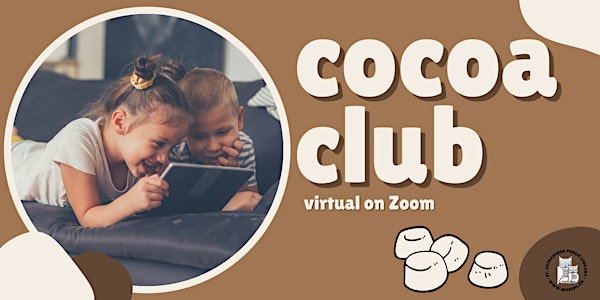 Virtual Cocoa Club
Cocoa Club from the comfort of your own home! In this weekly program, enjoy hot cocoa as we read aloud from an exciting children's novel.
About this event
Session dates are Thursdays, January 20 to February 24, 4:00 - 4:45 PM for children living in the St. Catharines area. Kits with hot chocolate, marshmallows, and more will be available for registrants to pickup at their selected library location starting Thursday, January 13.
This winter we will be reading "Dragons in a Bag" by Zetta Elliott, a modern-day fantasy story full of magic and adventure. Program packages containing hot chocolate and activities will be available for pick up at the St. Catharines Public Library location of your choice starting January 13 for registered attendees. We will contact you with further details and provide the Zoom link.