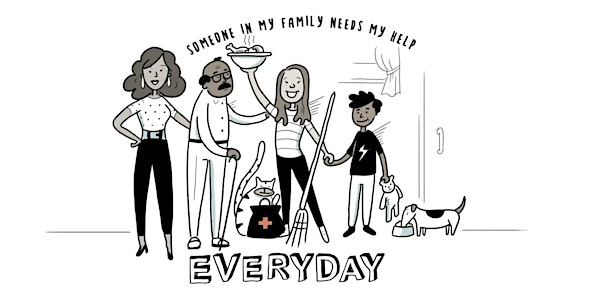 Virtual Community Event: Connecting Young Caregivers & Healthcare Providers
Raising awareness of young caregivers among the public and creating meaningful connections with healthcare providers
About this event
*Attendance Certificates Provided
*Gift Card Raffle During Event
Please register yourself, your family, and/or your friends so we can send you updates about the event! We plan to host our virtual community event on Saturday, November 20, 2021 from 10:30 AM to 12:00 PM in celebration of World Children's Day!
OUR ITINERARY FOR THE DAY
PARTICIPANT SET-UP
10:30-10:40 AM
Chat Moderator: Mary Anne Olalia (she/they) is a 4th-year undergraduate nursing student, and will be helping to monitor the chat. They are passionate in studying and researching collaboration and how to improve the patient experience in healthcare, stemming from her own experiences navigating the healthcare system. She is excited to learn alongside you today, and is happy to help with any questions, comments or concerns you might have to help make this session a safe space and a positive experience.
Tech support and informal greetings to participants
WELCOME
10:40-10:50 AM
Facilitator: Dr. Kristine Newman (she/her)
Land acknowledgement and welcome speech (videos about young caregivers)
STARLIGHT STAGE (TO BE RECORDED)
10:50-11:35 AM
Facilitator: Chelsea Alex (she/her) has been working with children and youth, in some capacity for just over 10 years. She started working at her local Community Centre, running recreational and skill building workshops for kids and youth, and since then has been passionate about working with children and youth. She did her undergraduate degree in Psychology at Queen's University. Since getting her undergraduate degree, Chelsea has worked as a Child and Youth Worker in various capacities and as a Community Support Worker for young adults with dual diagnosis. Chelsea has worked for Hospice Toronto as the Young Carers Program for just over 3 years and feels passionately about working with and raising awareness around Young Carers.
Two young caregivers will share their experiences with caring for a family member
One service provider who works with young caregivers will speak about the what it is like to work with young caregivers and how they provide support/guidance
Panel discussion with our stars
BREAK
11:35-11:40 AM
Break (prepare star templates)
WISHES
11:40-11:50 AM
Facilitator: Cayleigh Sexton (she/her) attended Brock University for Child and Youth Studies and a Bachelor of Education. She also completed a Master of Arts Degree at Brock for Child and Youth studies where she did completed a research study about young caregivers within a stress and coping model. She has been working with Young Caregivers Association since 2013 and currently am in the Director of Programs and Services role. She specializes in supporting siblings of children with Autism and has designed a program specific for siblings. She currently lives in Brantford, ON with her husband and their pets. In her spare time she also volunteers at a Cat Shelter in Delhi, ON.
Making wishes from young caregivers to healthcare providers. What would you like healthcare providers to know?
Wishes from healthcare providers. What would you like to know about young caregivers? What would make it easier for you to support young caregivers?
Wishes from other participants (i.e., students, service providers, students, community members): What would you like to know about young caregivers? What would make it easier for you to be an ally or advocate for young caregivers?
Template for stars: https://www.firstpalette.com/pdf/star-7inch.pdf
Send your wishes to young.caregivers.virtual.event@gmail.com using the subject line "Wishes" and indicate your raffle ticket numbers.
THANK YOU + TELL US HOW WE DID
11:50-12:00 PM
Facilitator: Mary Anne Olalia (she/her) and Dr. Kristine Newman (she/her)
Debrief, resources, games, prizes!
Evaluation survey (raffle prize for submitting)
Come join us at our virtual community event to engage families, young caregivers, healthcare providers, and community members. We hope the event will raise the public's awareness of young caregivers and help in creating meaningful connections with healthcare providers to improve the lives of young caregivers and their families. Let's have some fun, learn about what young caregivers experienced during COVID, and figure out what we can do together to make a difference! To end off the event, we'll have a fun game and prizes because who doesn't love that! This project is led by the Spare A Thought For Dementia Collaborative (#T4D, #T4Dementia), Young Caregivers Association, Young Carer Program, Ryerson University, and Western University.
Please contact Dr. Kristine Newman at kristine.newman@ryerson.ca or young.caregivers.virtual.event@gmail.com for any questions you have and looking forward to see you there!