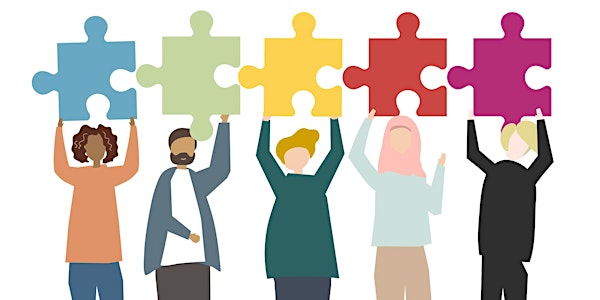 Virtual Community Forum: Moving Forward to Achieve Racial Equity
Join us to hear from expert panelists on how we can take action in our community.
About this event
Do you want to know how you and your organization can contribute to racial equity on the North Shore? Join us to hear from expert panelists on how we can take action in our community.
You are invited to a virtual community forum focused on achieving racial equity on the North Shore. Join us for an opportunity to hear from expert panelists about how you can contribute to achieving racial equity in your community!
This community forum will build upon the information shared at our Town Hall in September 2020 where we explored the concept of racial equity. This follow-up event will highlight practical ideas and steps on how you and your agencies can move towards achieving racial equity. You can view the recording of the Town Hall here.
SPEAKERS:
Dr. Moussa Magassa, PHD, IDI.QA
Educator & Facilitator / Researcher; CEO and Principal of the Intercultural Capacity Building
Dr. Moussa Magassa is the UVic human rights educator, specialist in anti-racism education, equity, diversity, inclusion curriculum design and program development. He also teaches as an associate faculty in the UVic Social Justice Diploma program; the M.A in Global Leadership program at Royal Roads University; the UVic diploma program in intercultural studies & practice; and the UBC Centre for intercultural communication.
He holds a PhD in Curriculum and Instruction (UVic) with special focus in critical race theory, anti-racism education, EDI framework development in institution/ organizations, intercultural communication and conflict resolution, Islamophobia, human rights discrimination & harassment, and immigrants and refugees' integration and adaptation in host communities.
Dr. Magassa is an advisor to various organizations: Resilience BC Anti-racism advisory and strategic planning committee; SFU academic and practitioner advisory committee for the migrant systems Change Leadership Certificate program; Co-chair of the Greater Victoria Police Diversity Advisory Committee; and board director of the Victoria Multifaith Society. Formerly, Moussa was an advisor to the National Immigration Table of Community Cooperation in Francophone immigration; former president of the francophone society of Victoria; and the Vancouver Island board director for the BC Francophone Federation.
Dr. Magassa is the Principal and CEO of the consulting firm, The Intercultural Capacity Building Inc. (www.magassa.ca), specialized in EDI, Intercultural capacity development and anti-racism education, and program evaluation.
Sam Seward
Sam's ancestral name is Nekwimetstn. He belongs to 2 rich cultures, Snuneymexw and Sḵwx̱wú7mesh. He grew up in Eslha7an, in Sḵwx̱wú7mesh territory, and attended St Paul's Indian Day School. While there he got his first acting opportunity, with a CBC film called Sister Balonika.
Seward excelled in lacrosse and basketball but has been active in many sports through out his life. Sam has always been culturally connected and has recently studied the Hən̓q̓emin̓əm language under the guidance of our dear Tseilwatuth relatives. Sam is currently in a apprentice- mentorship program learning Sḵwx̱wú7mesh Snicham - Squamish language.
Living the culture is important to Sam. Other cultural activities he practices are food fishing and Coast Salish wool weaving.
In Media Sam's work includes a play called Šxʷʔam̓ət with Theatre for Living, a web commercial called "healthy aging living" with Health Canada. An a episode on APTN Warrior Games/lacrosse episode. With a feature film being released shortly.
Shagufta Pasta
A social planner and doula, Shagufta is committed to helping organizations and individuals birth new ways of being. Her work focuses on faith inclusion within cities and institutions, creating an equitable future and present of work, and how organizations can strive for racial equity through their planning processes. Reading is her favourite thing.
Shelley Joseph
Founder & Lead Trainer - Ladders to Kindness Training
Shelley Joseph, Hekwa'gila'ogwa, has a lifetime of cultural exposure. Being immersed in the lessons and traditional ways of being, have shaped who she is. Shelley has been on her healing journey for more than 31 years and has combined her lived experience with education in the spiritual, physical, mental, and emotional well-being of people, families, and communities. She believes that awareness and action plans for change can sway the scope of disparity in our societies. She prides herself in holding safe space for people to learn, heal, and grow. She has advocated for Cultural Safety and Kindness her whole life and is passionate about nurturing relationships and true Reconciliation. Following the teachings from a lifetime of learning from elders and cultural leaders, Shelley is dedicated to learning and leading by example through her values. https://www.ladderstokindness.com