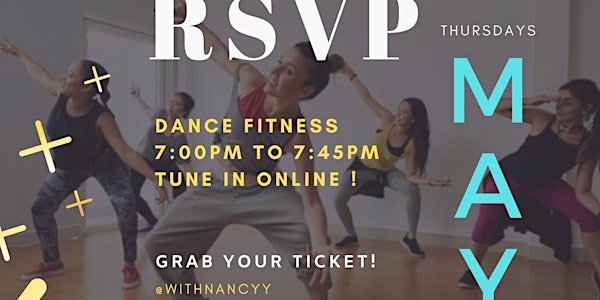 Virtual Dance Fitness Class | May Edition | with Nancy
Join me every Thursday online, to do some dancin' together :D Let's have some fun learning new moves, dancin' and getting some cardio in!
Refund Policy
Refunds up to 1 day before event
Eventbrite's fee is nonrefundable.
About this event
Have you been feeling like you need to get some cardio in but are not the running type? Or you simply want to release all the tension in your body but don't know how to get it all out?
I totally feel you. Staying in is NOT what we're used to. But it doesn't have to be boring! Why not take a Dance Fitness class with me?
Join me every Thursday in my Virtual Dance Fitness Classes from 7pm to 7:45pm ET :)
(except May 21st)
WHAT IS DANCE FITNESS?
It's a mix between dance and fitness. It's like dance moves that you've always wanted to learn, but a bit simplified, all while having fun and getting a cardio workout!
It can also be seen like a Zumba class but with better moves ;) And the advantage, you might even up your dance game hihi **(but no worries, you don't need aaaaany dance experience)
IS THIS FOR YOU?
If you are someone who simply enjoys moving to the beat, whether with your friends, in a dance studio or even just by yourself in front of your bedroom mirror, this is for you. :)
No judgement. No competition. Just fun!
WHAT PEOPLE SAY OF THE CLASSES
I loved Nancy's dancing classes! I went through her beta program and it was super fun. I got to learn new things and it is as much for beginners than advanced! Super welcoming and I love how her teaching is full of passion and she is constantly at the look out of improving. Her way of teaching is very easy to follow and she would stop if you are stuck and redo it until you get it! I personally never danced before and after attending, I felt like I have been out of a fun workout and most importantly, I definitely feel super good in my skin after dancing! 😀 So, I definitely recommend attending, you are in the right place!
- Joanne
J'ai participé à plusieurs reprises aux cours de danse virtuels de Nancy et j'ai adoré mon expérience. C'est une fille passionnée et elle rend chaque cours super divertissant. Elle est à l'écoute de nos besoins et prend le temps de bien nous expliquer chaque mouvement. Je recommande ses cours à tous ceux qui souhaitent bouger, danser, apprendre et se sentir bien. 🙂
- Tania
WHAT YOU'LL GET
New moves
New friends
A lot of fun all while getting cardio in your routine
The pride of contributing to helping those in need during the Covid (yep, because 100% of the donations will go to food banks - suggested contribution of $5-$10)
HOW IT'LL GO DOWN
You grab your ticket right here
You receive the call information by email
You join in and can interact the fellow class attendees - we have our cameras on ;)
We start the class and get our groove on! <3
HOW MUCH IS IT?
Only $5! Just the cost of a coffee!
Because I feel it's a shame not more people know the magic that lies within dance. And wouldn't the cost of a coffee be worth more confidence, a healthier body and fun?
But if you realize this is not for you - NO TROUBLE - simply to send me a message and I'll refund you your $5 immediately. This is meant to be fun and rewarding for you and if it's not, then I lost the bet. No hard feelings!
Obviously, if you think that was worth way more than $5, simply to save your spot already for next class, and you can select more than 1 ticket to share to friends and family who would enjoy it with us too!
Will I see you there?
This class will be led by me Nancy, from instagram.com/withnancyy and withnancy.com/move I am dedicated to make people grow healthier and prouder of themselves. Let's pave our way to each our own definition of happiness.
You can also join the community in this Facebook Group.
*By signing up, you agree to receive email communications on upcoming classes, meditation and wellness resources and other related matters.